*This post may contain affiliate links. Please see my
disclosure
to learn more.
Are you looking to consider a microwave model with flat bed design? Flat bed microwaves are units without rotating turntable inside.
Whether the microwave offers with or without turntable, both of them have the rotating motor to move the air around to create even heating from all sides.
A rotating table typically includes a motor with glass plate. However, the microwave without the turntable has stirring blades hidden under the flat bed.
These stirring blades ensure to distribute the heat waves around food items so they can be evenly heated without spinning the food.
With the turntable, the major issue is the limited interior space. But without the turntable, it offers a larger cooking volume and flexibility for more than one dish at a time.
Additionally, it is easier to clean, and no need to worry about spilling over due to the food spinning.
There are a lot of advantages when using flat bed microwave. In this article, we are going to share our thoughts and experience on top-rated flat bed microwaves for you to consider.
Best Pick
Best Pick: Flat Bed Microwave
This Panasonic countertop microwave oven is heavy duty and commercially graded. It has 1000 wattage power with 0.8 cubic feet capacity, which is small enough but the interior feels spacious without a turntable. Even though it is widely used in business setting, it is compact to put on a countertop or table.
Budget Pick
Budget Pick: Flat Bed Microwave
Easy to operate commercial microwave oven that is medium duty and offers traditional dial timer that ranges from 10 seconds to 6 minutes, and the LED light is bright enough to show the monitor.
With 1.0 cubic feet capacity, it is spacious enough the easily hold a 13½" plate as well as single serving or half size pan. The stainless steel interior and exterior is also easy to maintain and clean.
Quick Comparison: Top 6 Best Flat Bed Microwave
The below list is top-rated flat bed microwaves that are widely used in the commercial and home settings for both heavy to light-duty tasks. We hope this guide and reviews help you find the best microwave without a turntable for your kitchen.
Here are the best flat bed microwaves:
Best Flat Bed Microwaves
Best flat bed microwave to cook, reheat, and defrost food in a minute. Here are options that include auto defrost option by weight or time, inverter technology, and spacious interiors to fit a standard dinner plate.
Things to Know Before Buying the Flat Bed Microwave
If you are looking for a microwave to cook whole meals with at home or for commercial use, a flat bed microwave will be your solid option.
Microwaves without turntable are built with flat bed inside that make it easy enough to clean.
Furthermore, there is no need to worry about broken glass turntables resulting from high-volume usage.
When purchasing a flat bed microwave, they usually tend to be pricey. Therefore, set a budget beforehand and then review the features that come with each model.
Evaluate the usage and the setting of the microwave if it is necessary for your cooking preference.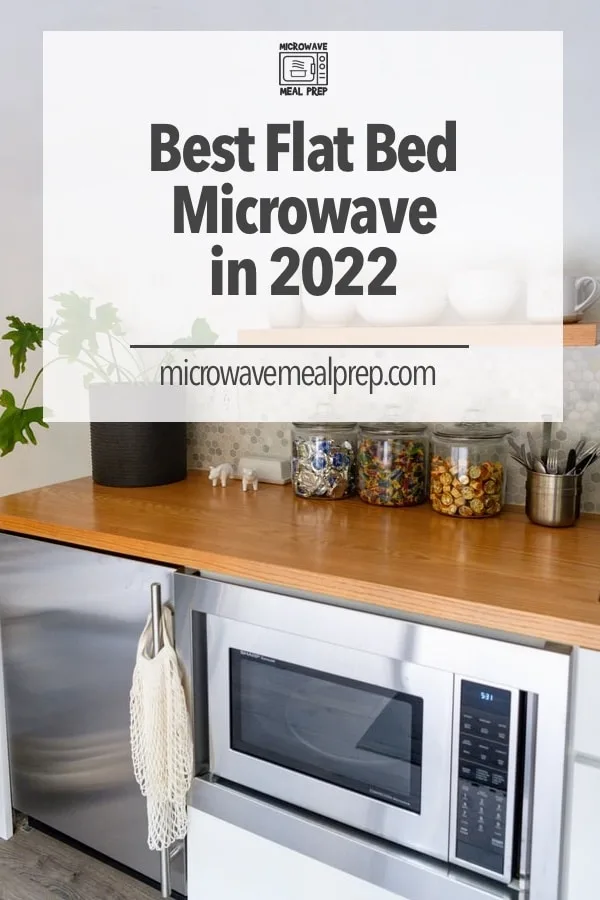 Best Flat Bed Microwaves: Conclusion
The rotating disk with a glass turntable tends to cook and warm up food evenly. However, the bulky design limits space that may not fit all microwave-safe containers.
Without the turntable, you will have a lot more space to fit everything from pre-packaged foods to large dinner plates. In addition, these type of commercial microwaves heat more evenly with advanced technology.
From best performing to budget-friendly, there is an abundance of flat bed microwave options to choose from. We hope this list is helpful to select which microwave without a turntable to add to your home kitchen. Then, make this Peanut Butter Mug Cake in it!