*This post may contain affiliate links. Please see my
disclosure
to learn more.
Microwave is an excellent appliance to shortcut meal prep. From affordable to expensive and high-end, the price point can range widely.
In addition, the features, size, and capacity can play significant role when it comes to determining the right microwave for your lifestyle.
Lower cost microwaves tend to range between 700 to 1000 watts, which may slow cooking time depending on the model. However, such appliances perform basic tasks including reheating, defrosting, and cooking.
In this article, we are sharing extensive research and testing done on the best microwave under $100. Our goal is to help you make a smart decision for best performing unit within a lower price point.
Best Pick
Best Pick: Microwave under $100
Reasonable price with Alexa integrated to make cooking and meal prepping easy and quick. It has a 700 watts with 0.7 cubic foot internal capacity, therefore the push button timer helps to reheat instantly even with low wattage.
Budget Pick
Budget Pick: Microwave under $100
Durable and sturdy made, this Commercial Chef microwave gets basic jobs done with perfection. Even though it is 900 watts, it heats food quickly and evenly.
Including leftovers, defrosting and cooking meals, the microwave has single serving interior capacity that is perfect for all tasks.
Quick Comparison: Top 4 Best Microwave under $100
Finding the right microwave oven for under $100 is not that easy, especially if you are looking one that has multiple features and settings. From auto defrost to quick start, and energy saving options to voice integrated smart technology, here are our detailed reviews and guide to make the right decision.
Here are the best microwaves that cost less than $100:
Best Microwave under $100
Best microwave under $100 to reheat, defrost, and cook food evenly and efficiently. Here are options that include countertop, digital, 700 and 900 watts top-rated performing microwaves on a budget.
Things to Know Before Buying the Microwave under $100
A cheaper price point doesn't always equal the best quality microwave. Understanding what you need and how the microwave is mostly used will be the determining factor to find the right one.
Before buying a cheap microwave, consider these things including power, functions and features, noise level, and reliability.
Power: The higher power a microwave has, the faster the food cooks, but the price range tends to be higher as well. Stay within range of 700 to 1000 wattage for powerful cooking experience on a budget.
Functions and features: Any additional pre-programmed setting, adjustable power levels, inverter technology, and express cooking are great functions and features that make microwaving even easier.
Noise level: Some appliances offer mute settings to easily turn on and off the sound. So, if you like quiet while operating a microwave, select a unit that does have low noise level while turntable is spinning.
Reliability: To determine if the microwave is reliable or not, look for brand name, warranty, and available customer service.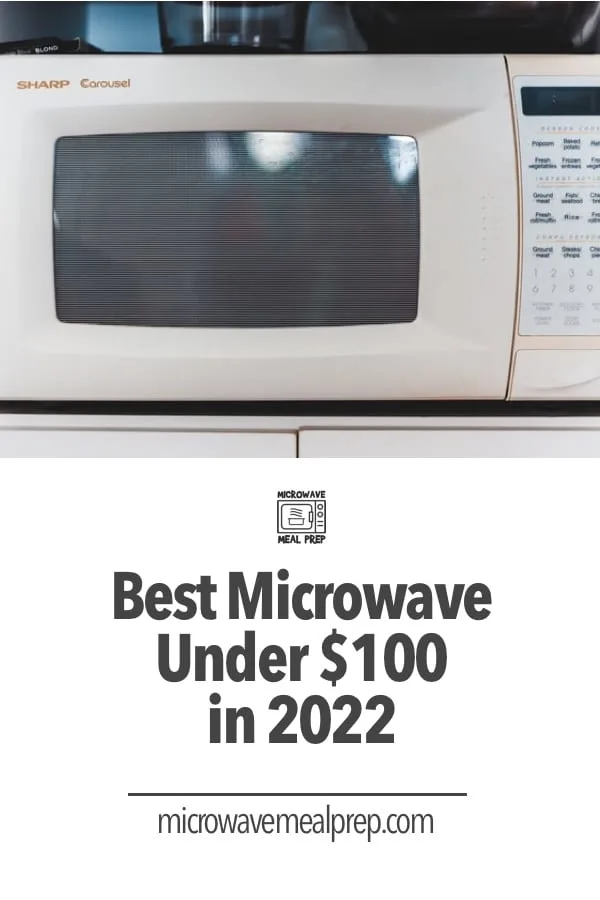 Cheap Microwaves: Conclusion
Microwave under $100 that performs best is like very challenging. Most of the times, cheap appliances tend to have low wattage, less powerful, and are noisy.
As a matter of fact, there are few options that fit all your needs in one unit. Hope this list and guide helps you find the best microwave under $100 to fit your budget and personal preference.