*This post may contain affiliate links. Please see my
disclosure
to learn more.
From Cafe to Forte, there are abundance of high-end microwave brands that range from $500 to costs over $1000. These microwaves are only ideal if you are building a dream come true high-end kitchen that complements well with your design and other appliances.
These microwaves offer a wide range of features to help you widen cooking options when you have an elevated budget.
High-end microwaves are not only sleek designs with a lofty price point, but they offer more watts and functions to cook, defrost, reheat, and melt your food accordingly and smoothly. Here are the best high-end microwaves that can add shine to your kitchen. They make the perfection appliance for this Mug Cake!
Best Pick
Best Pick: High-end Microwave
Photo Credit: www.walmart.com
Not only sleek and modern, the Cafe microwave cooks well and comes with lots of options from broil to making popcorn. The temperature selection is perfect to adjust the cooking time and no need to worry about overcooking nor burning.
Budget Pick
Budget Pick: High-end Microwave
Photo Credit: www.walmart.com
Interactive sensory microwave oven that covers 1.5 cubic feet capacity for families. It has slightly lower wattage than the other high-end microwaves, however the even heat and multi-stage cook option to adjust the timer and temperature as well.
Quick Comparison: Top 8 Best High-End Microwave
Wattage, cubic feet, and design are important features to consider other than price when it comes to finding the best high-end brand microwave that works for you. Out of a handful of options, we have selected the best microwave based on quality and customer reviews.
If you have extra budget to comfortably choose a high-end microwave, here are detailed list including benefits and what to consider to help you make a decision.
Here are the best high end microwaves:
Best High-End Microwave
These high-end microwave consists of built-in drawer and countertop designs with various cooking presets to bake, broil, defrost, and reheat quality food. In this list of options, you will find the best high-end microwave to fit your needs.
Things to know before buying the best high-end microwave
Cubic feet, design, features, and layout are the most important factors to consider when purchasing new microwave. It's best to set a goal that fits your lifestyle, especially when selecting high-end brands with a lofty price point.
Automatic preset features and child lock are also important. The automated temperature control with even defrost and cooking ensure to enjoy the food quality remains the best.
Whether you select drawer or countertop microwave, the choice is up to you and the design elements of the environment. However, do consider that the price does not determine the best performance microwave.
Consider the comfortability of the amount of presets and space you need for the microwave. Functionality should be first and foremost, then select the right model to fit the setting.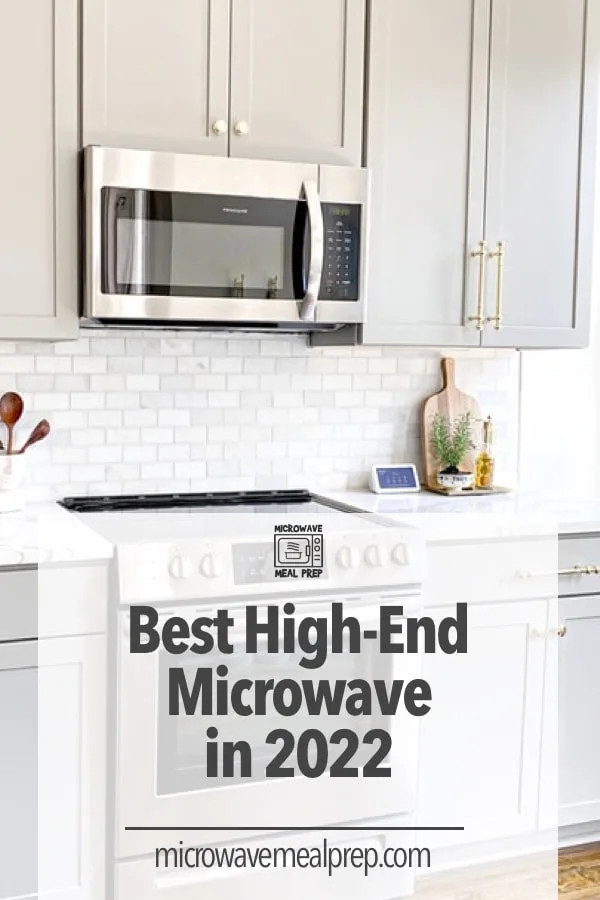 High End Microwaves: Conclusion
With endless options available to choose from, we hope that this list is useful in your research. As for the best high-end microwave, it depends on your usage and cooking preference.
High-end microwaves come with quality food as result. Therefore, review each unit and compare with your lifestyle to find the one to suit your needs.
Consider the tasks you use the appliance for the most, then select the features that is right for you. Use the necessary aspects to determine which high end unit will best suit your needs.