*This post may contain affiliate links. Please see my
disclosure
to learn more.
Whether you enjoy applewood, cherrywood or hickory- smoked, or whether you prefer thick-cut or thin-sliced, bacon is a delicious addition to any meal.
However, there are many of us that have turned to turkey bacon as a substitute to the original pork based delicacy. Bacon has never been considered one of the healthiest food options, and that another motivation for switching to turkey as it has a much lower fat content.
Turkey bacon is a tasty alternative to regular bacon, and thats why it has withstood the test of time and has garnered consumer support in the marketplace.
Here's the crux. We don't always have time to panfry bacon and it is nice to be able to microwave bacon to quickly cook a few slices.
How do you cook turkey bacon in the microwave? The best way to cook turkey bacon in the microwave requires paper towels, slices of turkey bacon and a couple minutes on high heat.
This guide details everything that you need to know about microwaving turkey bacon. We will give you step by step instructions, helpful tips and various options along the way, we will even share a quick alternative method that you might find handy.
Keep reading this guide to learn how to cook turkey bacon in the microwave and everything you need to know about the process.
Guide to Microwaving Turkey Bacon
Turkey bacon looks, feels and even tastes similar to regular pork bacon. Turkey bacon can be purchased in a variety of styles, including applewood, hickory-smoked, thick-cut, thin sliced.
Turkey bacon is made from turkey meat that is chopped, cured, and smoked. The low-fat alternative is a perfect compliment to any meal when you have a craving for some bacon goodness.
Turkey bacon is also a great option for anyone who doesn't eat pork due to dietary restrictions or religious reasons.
Seriously though, everyone deserves SOME type of bacon in their life!
Turkey Bacon vs. Pork Bacon
There are clear differences between turkey bacon and pork bacon with distinct pros and cons between both types. Taste, diet and personal preference are some of the reasons why you may prefer eating one type over the other.
Ultimately, the best option for you is based on your own decision
So, what is the difference between turkey bacon and pork bacon? For starters, one is made with turkey while the other is made with pork. Both types of bacon are made from animal fats and muscle proteins.
This means both selections contains nutritional value including a variety of minerals and nutrients that can be good for you. The primary health difference between the two is the caloric content resulting from less fat.
However, it is important to note that turkey bacon can be used in the same that you would use pork bacon.
Here are a few ideas for using bacon:
Sandwiches (BLT, club, grilled cheese, etc.)
Side dish for breakfast (served with pancakes, eggs, hash browns, french toast, etc.)
Omelette mix-in
Hamburgers (bacon cheeseburgers, avocado bacon burger, mushroom bacon burger, etc.)
Bacon bits as a garnish for salads, potatoes, etc.
Bacon-wrapped dates
Bacon-wrapped jalapeno poppers
Bacon-wrapped chicken or steak
Dips with bacon
Bacon in soups
Add bacon to casseroles
As you can see, there are numerous ways to incorporate turkey bacon into favorite dishes in the same way that you would use pork bacon. The options are limitless when you alternate from pork bacon to using turkey bacon!
Difference Between Turkey Bacon and Pork Bacon
One thing is for certain, both turkey bacon and pork bacon are heavily processed.
The preservation process of commercially manufactured bacon tends to include other additives. Read the labeling and important information to be informed of the ingredients used during the processing.
Turkey bacon has lower fat and less calories than pork bacon. As a result, turkey bacon produced much less grease while cooking.
Grease will render out of the fat while cooking, but not nearly as much. You may even need to add a little cooking oil when panfrying or baking turkey bacon.
When visually comparing turkey bacon strips with pork bacon strips, you will notice that turkey bacon is straight and uniform in texture, color and appearance. On the other hand, pork bacon varies in length, width, texture and proportion of fat to meat.
Turkey bacon achieves its uniformity because turkey is ground up and then processed into blocks that are sliced for making bacons strips. In contrast, pork bacon is the belly of a pig which is subject to varying ratios of fat to muscle.
Both turkey bacon and pork bacon can be purchased at any market that sells bacon. However, it's unfortunate that there are fewer choices for turkey bacon as pork bacon is the industry standard.
Bacon can be cooked in multiple ways including the microwave, pan frying, oven baked or even in an air fryer. Pan frying has always been the classic way to cook bacon, but these other methods produce similar results.
Pork bacon tends to get a bad reputation because it is both high in fat and sodium. Turkey bacon also contains sodium, however the salt levels in turkey bacon are much lower than pork bacon.
Ultimately, the main difference is less fat resulting in less calories available.
Alternative Ways to Cook Bacon
This article is about microwaving turkey bacon, so we are not going to dive deep into alternative cooking methods. However, we wanted to give a basic overview for a bit of insight.
Cooking bacon does not have to be done over a hot frying pan as the classic way to cook bacon can get a bit messy. Similar to a frying pan, bacon can also be cooked on a griddle.
In the air fryer, bacon takes about 4 minutes to cook to a perfect crisp. And it tastes just like pan-fried bacon!
If you are baking in the oven, it takes a white longer. Line a sheet pan with parchment paper and bake the bacon for about 20 minutes.
These alternative bacon cooking methods are great options to consider if you want to veer away from microwaving or panfrying.
Tips for Microwaving Turkey Bacon
One of the easiest ways to cook turkey bacon is in the microwave. This kitchen appliance allows you to cook a few pieces of turkey bacon in just a matter of minutes.
The major benefit to microwaving bacon is that you don't have to stand over the hot stove with grease splattering in your face as the bacon cooks. This also means less mess to clean up afterwards!
Here are some helpful tips for microwaving turkey bacon:
You can make crispy turkey bacon on a simple microwave safe plate lined with paper towels.
Use paper towels to absorb moisture and fat while keeping the microwave splatter and messy cleanup to a minimum.
Cover the turkey bacon with a lid, or extra sheet of paper towel to reduce splatter and make cleanup a breeze.
For bacon lovers that microwave on a regular basis, use a microwave bacon tray to let the grease drip away and make the turkey bacon extra crispy.
The typical cooking time to microwave turkey bacon is around 2 minutes. Depending on your microwave model, number of slices and thickness of each slice, the cooking time will vary.
Allow the turkey bacon to cool down for a minute before serving. As it cools, it will obtain the crunchy texture that you crave.
Microwaving turkey bacon is the fastest and easiest method for cooking turkey bacon. It turns out just as delicious as when cooked in any other way.
There are microwave bacon cookers with specialized racks and grease traps underneath. They are high recommended if you are an avid microwaved bacon lover, but they are not required for this method.
How to Store Cooked Turkey Bacon
Microwaving turkey bacon is quick and simple. Most notably, be sure to store it in the refrigerator before, and if there are any leftovers that also after cooking.
You can expect your uncooked turkey bacon to last about 2 weeks in the fridge, and up to 1 year in the freezer. Once the bacon has been cooked, it should be kept at temperature below 40 degrees Fahrenheit.
Cooked turkey bacon can be refrigerated for up to 1 week or frozen for up to 6 months.
Quality can be assessed based on the look, smell, and touch of bacon to determine if it is fresh to eat or has passed expiration.
The smell is usually the most noticeable sense to pinpoint the freshness of food. If it smells sour, slightly fishy or overall odd, then it is best to not take any chances.
How to Reheat Turkey Bacon in Microwave
If the turkey bacon passes quality control, then proceed with reheating using the technique you prefer. Common practices for reheating turkey bacon are using a microwave, oven or frying pan.
If you choose the microwave method, the process is no different from using a microwave to reheat bacon. Paper towels lined on a microwave safe plate will help to absorb rendered fats while microwaving, and the rewarmed turkey bacon will be delicious and ready to eat!
Here are the steps to take for reheating turkey bacon in a microwave:
Line a microwave safe plate with two sheets of paper towel.
Spread a single layer of turkey bacon strips onto the paper towel.
Cover the turkey bacon with an extra piece of paper towel.
Microwave for 20 seconds to reheat the turkey bacon.
Check whether the pieces are hot enough, and if necessary you can microwave for an extra 20 seconds or until the turkey bacon reaches an internal temperature of 165 degrees Fahrenheit.
Transfer the turkey bacon to a clean sheet of paper towel to drain the excess grease before serving.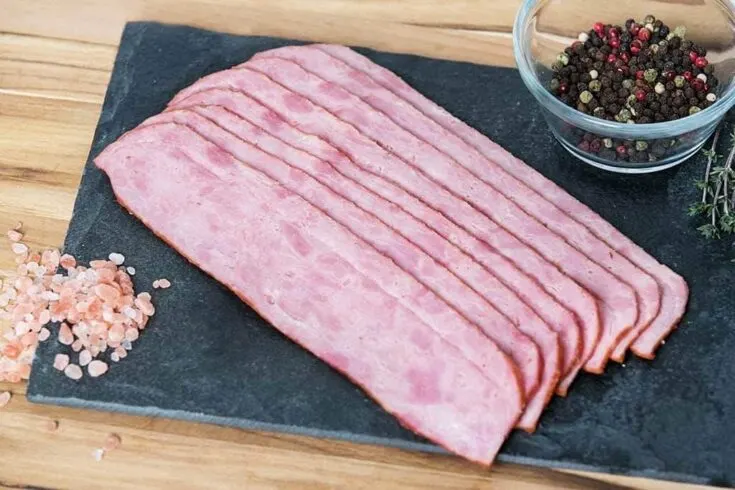 Yield:

4 slices turkey bacon
Microwave Turkey Bacon
Additional Time:
1 minute
There are a number of ways to make turkey bacon in the microwave. We are going to share the easiest method and most practical option.
This technique does not require any special tools or utensils in order to microwave turkey bacon.
Some brands of turkey bacon include instructions on the package for cooking on the stovetop or in the microwave. This is a great point of reference.
Here are steps for microwaving turkey bacon.
Instructions
Layer a microwave-safe plate with a few sheets of paper towel. The paper towels will absorb the grease, so 2-3 sheets is a good idea.
Lay the slices of turkey bacon on the paper towels in a single layer. Space apart and make sure that they are not overlapped.
Start by microwaving for 1 minute. Then check the turkey bacon, turn it, and cook another minute if necessary.
Transfer the turkey bacon to a clean sheet of paper towel to drain the excess grease.
Allow it to cook for one minute so that it becomes crispy, the serve and enjoy!
Notes
The standard cooking time is between 1-2 minutes. The longer you microwave the turkey bacon, the crispier it becomes. Time will vary if you have more slices and a lower wattage microwave appliance.
Nutrition Information:
Yield:
1
Serving Size:
1
Amount Per Serving:
Calories:

119
Total Fat:

8g
Saturated Fat:

2g
Trans Fat:

0g
Unsaturated Fat:

5g
Cholesterol:

50mg
Sodium:

655mg
Carbohydrates:

1g
Fiber:

0g
Sugar:

1g
Protein:

10g