*This post may contain affiliate links. Please see my
disclosure
to learn more.
Microwave is the quickest and easiest method to defrost everything from frozen vegetables to seafood, chicken and steak. When defrosting in the microwave, the heat may not reach all the parts of the food, so it is advisable to stir, flip and rotate while nuking.
There has been debate as to whether or not using a microwave to defrost food is safe. So is it? Let's dive in and explore reasoning behind the concerns.
Is it safe to defrost in a microwave? Yes, when defrosting food in a microwave, the microwaves cause water molecules to vibrate which generates friction and leads to water heating up.
However, the electromagnetic radiations does not make the food radioactive. Both radio waves and microwaves are examples of non-ionizing, and most do not cause cancer when used moderately and as instructed by the manufacturer.
Always follow and consider the recommended guidelines when defrosting anything in a microwave, including avoiding metallic bowls or utensils, and stick with using glass, ceramic, or plastic if they are microwave-safe.
Keep in mind that food heats up at different durations, so frequently stir the food to ensure even distribution of heat, and be aware that some food and beverages have the potential of exploding while heating in a microwave.
The standard wattage for defrosting in a microwave is 350 watts though
some appliances exceed a maximum of 1100-watt. When using a high powered microwave, reduce the temperature, power level or use the defrost setting to minimize heating below 30% to reheat evenly without initiating the cooking process.
Defrosting in the microwave is very safe as it kills the bacteria growing and retains the nutrients. However it also has a disadvantage, as it alters the texture and the taste of the food.
In this article, you will be discovering all about the advantage of defrosting food in the microwave, what happens while defrosting food in microwave and how to make it safe. Answered below are frequently asked questions about defrosting food safely in the microwave, along with tips to defrost anything in microwave safely.
Is defrosting in a microwave bad?
No, because the magnetic radiations in the microwave are examples of non-ionizing radiations. They do not make the food poisonous or radioactive.
Furthermore, microwave cooking can kill bacteria and make food safe for consumption. It only becomes harmful if you overheat food, leave defrosted food in the microwave for too long or put thick chunks of food, such as large pieces of frozen meat.
It is important to defrost most foods before cooking so that you are not left with cooked outer parts with raw ice cold centers.
When the heat does not reach all the meat parts, which may cause consumption of uncooked food or consumption of microorganisms. Though any style of cooking or heating food deteriorates nutrients in the food, it is still important for many foods to make them safe to eat.
It is advisable to defrost meat, seafood and poultry if planning to cook it immediately. Defrosting also helps to remove foul odors as water usually is lost in the process and discarded.
What happens when you defrost food in the microwave?
When the food is put in a microwave and the temperature adjusted to at least 40 degrees Fahrenheit, the bacteria becomes active since all frozen food contains living microorganisms.
The microwave includes an electron tube called a magnetron, and the waves become reflected in the interior of the microwave and absorbed by the food. They cause water molecules to vibrate, causing the food to cook from the inside out.
Some food thaw seamlessly when defrosting, while others crack or dry out due to heat being absorbed and transferred unevenly. Some food absorbs on the surroundings, and the interior does not get the warmth; therefore, it is always advisable to stir, rotate and regulate the time to make sure the food defrosts evenly without developing hotspots .
Does microwave food cause cancer?
Maybe, maybe not, generally, microwaves are not known to cause cancer. Microwave ovens use microwave radiation to heat water molecules in the food that generate friction resulting in heating, but it does not make food become radioactive.
However, when using non-microwave safe containers such as styrofoam or paper cups, the glue or plastic/wax lining can melt and leak potentially hazardous chemicals into the food which is harmful fo body. That's why it's best to nuke foods using microwave safe containers made with ceramic or glass.
Microwaves exist in the form of electromagnetic radiations moving together in space, so minute that the human eye is unable to detect the frequency waves. Since the microwaves are non-ionizing, there is low chance of developing cancer in the body.
Things to know about microwaving food
Microwaving liquids or food with high water content can cause uneven heat, so it is extremely important to stir frequently to defuse hotspots and check that the proper internal temperature is reached.
Here are some things that you should know when using a microwave to defrost food:
Avoid using metallic bowls and other utensils. This is because it can spark and may even start a fire. Instead, it is advisable to use glass, ceramic, or plastics.
Do not microwave all food for the same time. An explanation for this is because some foods take long while some take less time. Therefore, one should regulate the timing and use the proper settings like the defrost button when thawing food instead of nuking on high heat.
Stir the food after a specific interval. If the food is a large chunk or lots of liquid, then one should turn it and stir the contents after a particular time. Heat in a microwave is uneven and does not reach all parts of the food, therefore to enhance equal distribution of heat in all parts, continue to stir.
Heat the food until bubbling or steaming. Be assured that the heat reaches all parts of the food and avoid hot and cold areas with frequent stirring. When in doubt, use a thermometer to measure the internal temperature for optimal results.
Covering food when microwaving helps trap heat and steam. It prevents it from splattering all over the inside of the appliance as it would be messy. One can use a sheet of paper towel to cover the food and keep the mess to a minimum.
Minimize time in the temperature danger zone. According to USDA food safety guidelines, food should not be left within the temperature range of 40 degrees to 140 degrees for longer than 2 hours, otherwise it is considered unsafe to eat, this especially includes frozen food after being defrosted.
Microwave defrost symbol
Generally, most modern microwave ovens have a defrost function. The symbol for defrosting feature on a microwave resembles a snowflake or snowflake with a water drop.
Depending on the brand and newness of the appliance, the power defrost feature is able to thaw meat, poultry, fish, bread, cake, fruit and more. The defrost time and power level is set automatically based on the food type and its weight.
Simply select the type of food, enter in the weight, and the correct wattage and defrost time will be automatically calculated. It is common for the appliance to stop nuking halfway and as for the food to be rotated or stirred for even thawing throughout.
Microwave defrost wattage
Microwaves are built to defrost food at a low wattage around 100 to 300 watts, while other foods need high above 1000 watts, especially a frozen dinner. Use lower settings for extremely delicate foods.
Microwave ovens come in a variety of wattages and some high performance appliances cook above 1200 watts. On average, there are multiple power settings on a microwave ranging from low or defrost to reheat and cooking.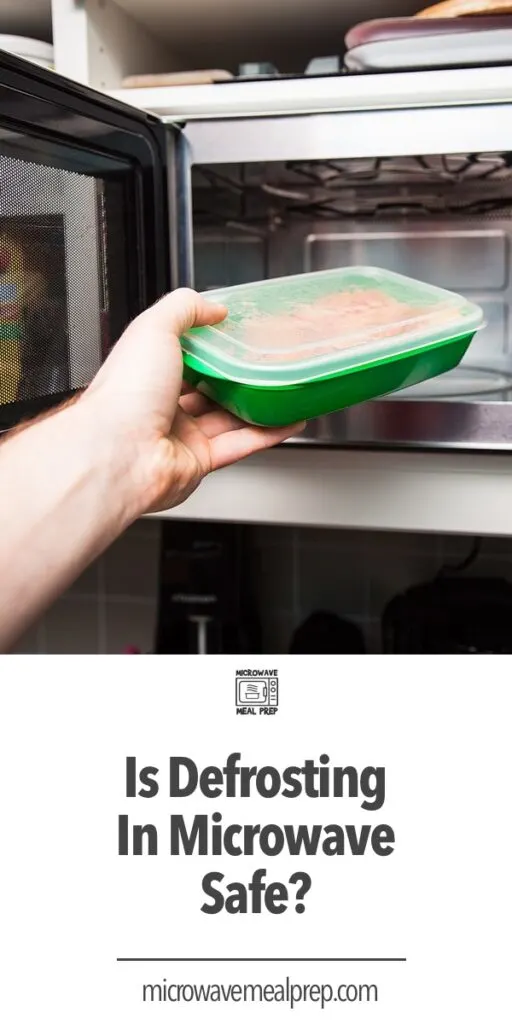 Defrost Safely in Microwave: Conclusion
Microwave is a quick and safe method to defrost food when preparing for a meal. It is approved as safe by the FDA, and anyone can consume microwaved food without having worries about damaged cells, radiation or causing cancer.
The appliance can kill some bacteria in frozen food while activating others, so it is still recommended to cook food after defrosting to make it safe for consumption. If proper food safety and safe food handling procedures are adhered to, the use of a microwave will be very efficient.
When thawing food in the microwave, the radiation activate the water molecules instead of making the food radioactive. However, it is recommended to use microwave-safe containers to place frozen vegetables or meat to defrost instead of original styrofoam container or ziploc bag.
Depending on the type and the amount of food, it is advised to select the defrosting time based on the total weight. Also, to reduce microwaving time, thaw small pieces at a time to evenly heat to be able to serve or cook without hotspots or overheated areas.
In addition, refer to the microwave manual and food instructions. Use a low heat defrost setting so that you avoid cooking food during the defrosting process.
Some foods may take longer to thaw than others. Stir often and microwave for 1 to 2 intervals so that you can check the status of frozen food, and avoid leaving it running for extended of time that may lead to overcooking or drying out hotspots.
Covering the food with wetted paper towel, microwave safe plastic wrap or a microwave cover is advisable to keep moisture inside and prevent from drying out. Additional, a lid will keep the microwave clean by eliminating splatter inside the appliance.
From overnight refrigerator to countertop method, there are many ways to defrost food before cooking or preparing a meal. However, if you are running short of time, microwaving is a quick and safe way to defrost food for a delicious and nutritious meal prep.