*This post may contain affiliate links. Please see my
disclosure
to learn more.
Crispy bacon is the gold standard for many connoisseurs of the cured meat delicacy. Grease splatter all over the stove is a huge turnoff, so microwaving crispy bacon has become the go-to method for a quick breakfast of champions.
How do you microwave crispy bacon? The best way to microwave crispy bacon is by using a microwave bacon tray and nuking for 4 minutes. Otherwise, line a microwavable plate with paper towels and lay the bacon flat without touching each other. Cover with another piece of paper towel and nuke on high for 4 minutes or until the bacon becomes crunchy.
It's indeed true that the taste of bacon depends on its texture. If you prefer the wonderfully crispy texture of bacon, then you have surely come to the right page.
Avoid stovetop splatter and greasy sheet trays in the oven by microwaving bacon to perfection. Continue reading to learn more about making crispy bacon in the microwave with specific tips and tricks to achieve the crunchy texture you desire.
Is crispy bacon safe to eat?
Crispy bacon is safe to eat as there is no worry about the cured meat being undercooked. The bacon becomes crispy by rendering fat as it cooks, and then frying the meat in the fat until it becomes crunchy.
Bacon smells and tastes so great, but there always has been a question on its nutrition profile.
Of course, bacon does not fall into the category of extremely healthy foods. Also, the idea of adding a bacon recipe in your daily diet is not recommended on a regular basis because of the extremely high fat and sodium content.
Crispy isn't the only way to have your bacon prepared. Opting for crispy bacon won't cut out the sodium or preservatives, however it can render out a fair amount of fat that will no longer be present in the food.
As far as bacon is concerned, crispy bacon is the leanest way to eat the potentially fatty food. But, it's not the only way!
In fact, many people enjoy the tenderness that results from microwaving soft bacon. The bacon is juicy because it is cooked in its own juices, but not allowed to completely render fat and begin frying.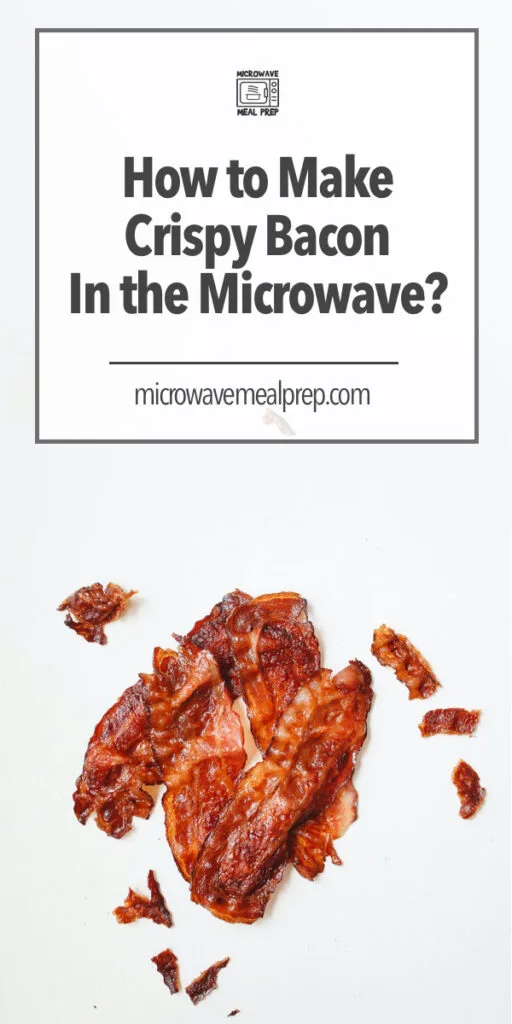 What makes bacon crispy?
Bacon gets crispy when you have cooked and processed it correctly. The idea is to dry out the bacon cells and render a large amount of the fat to a liquid state by cooking it at a high temperature.
When the water dries up, the remaining structure will firm up together and cause the fat to render away from the strips. The bacon is then fried in its own fat, and that's why it becomes crispy.
Since bacon has such a high-fat content, it offers excellent flavors when it's processed at a high temperature. The combination of amazing smells and crispy texture collectively makes the dish super delicious.
The perfect blend of crispiness and flavor that comes from bacon has this specify item ranked high on the favorite foods list.
Tips to Microwave Crispy Bacon
Crispy bacon doesn't only have to be cooked on the stovetop or in the oven, it can be microwaved to perfection. Avoid making a greasy mess on the stovetop by microwaving the bacon in a few minutes.
Microwave crispy bacon requires very minimal cooking hassle. From preparation to the final serving, crispy bacon will be ready to eat in less than 10 minutes.
Plus, since the entire dish is cooked in the microwave, it involves no greasy stovetop mess as such. Plus, if you precisely follow the recommended steps and tips, then you will be ready with perfectly crispy bacon slices that your taste-buds are searching for.
Here are some helpful tips for microwaving crispy bacon:
There is a common misconception that you need a microwave tray to cook bacon, but that is not completely accurate. You can make crispy bacon on a simple microwave safe plate.
Please use paper towels to absorb moisture and fat while keeping the microwave mess to a minimum.
Cover the bacon with a lid, or another piece of paper towel to reduce splatter and keep cleanup to a minimum.
For best results, use a microwave bacon cooker and let the grease drip away from the crispy bacon.
The typical cooking time to microwave crispy bacon is around 4-6 minutes. Depending on your microwave model, number of slices and thickness of each piece, the cooking time will vary.
Do not serve the hot bacon slices directly to the guests. Allow the bacon to settle down for a minute so that it can obtain the crispy texture that you crave.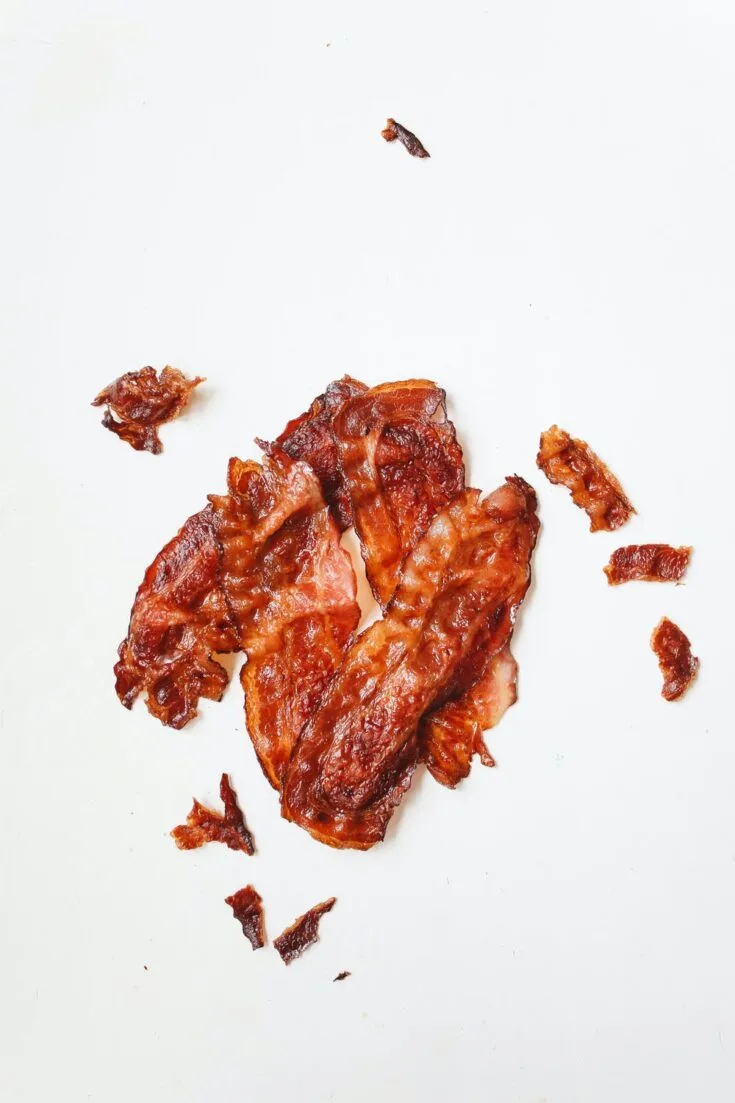 Yield:

4 pieces crispy bacon
Microwave Crispy Bacon
The texture of crispy bacon is completely dependent on how it has been cooked, and believe it or not but you can easily make crispy bacon right in your microwave.
There are three excellent benefits when it comes to making crispy bacon in the microwave, such as perfect crunchiness, evenly cooked texture, and outstanding flavors. In addition, a microwaved bacon is one of the easiest ways to prepare your bacon with that crunch you desire.
So, what are you now waiting for? Microwave crispy bacon - it's one of the best and easiest ways to prepare crispy bacon slices that you can serve with your breakfast and many other foods like pizza, dessert, salad, and much, much more.
Instructions
Use a flat microwave-safe plate and place two paper towels on top.
Place the bacon slices on top of the paper towels. The bacon slices should not touch each other and lay completely flat.
Once you have arranged the bacon slices, please place two paper towels on top of the bacon slices.
Place the plate with the bacon slices into the microwave and nuke for four minutes on high.
After four minutes, check the texture of the bacon. Based on the type of bacon, microwave settings, and individual preference, you may need to slightly adjust the cooking time. If necessary, microwave for one more minute.
Now, remove the hot plate and bacon from the microwave, and allow it to settle down for one minute. The bacon won't be crispy when it's still extremely hot, but it will crisp up when it cool down after a minute.
Nutrition Information:
Yield:
1
Serving Size:
4 strips
Amount Per Serving:
Calories:

215
Total Fat:

16g
Saturated Fat:

6g
Trans Fat:

0g
Unsaturated Fat:

10g
Cholesterol:

46mg
Sodium:

775mg
Carbohydrates:

1g
Fiber:

0g
Sugar:

0g
Protein:

16g