*This post may contain affiliate links. Please see my
disclosure
to learn more.
Are you wondering whether you can make boiled eggs in microwave? Microwave eggs are an efficient, mess-free and easy cooking method!
How do you make boiled eggs in the microwave? Boil 2 cups of water and a teaspoon of salt in a microwave safe bowl in the microwave. Poke a hole in the bottom of the egg, place it into the hot water and cover with a microwavable lid. Microwave on medium power level for 2 minutes and let the egg sit in the hot water 1 minute for soft boiled egg and 4 minutes for hard boiled egg.
Microwave boiled eggs are so perfect as a healthy grab and go meal prep. Boiled eggs taste great and can be prepared in advance and are ready to serve your appetite within a matter of minutes.
If interested to find out more info about boiling eggs in the microwave, then please keep reading and reveal all the required info.
Can you microwave boiled eggs?
Of course, you can microwave boiled eggs with ease. Boiled eggs are extremely healthy i.e. these recipes offer immense health benefits that you can't simply ignore.
Before heading to a hectic work schedule, if you are looking forward to having a solid breakfast, then you can surely opt for this make ahead preparation.
Microwave boiled eggs require less time as compared to the stove-based cooking options. Plus, it is mess-free and stress-free as you do not need to do any cleaning of pots or pans once you prepare the boiled eggs in a microwave.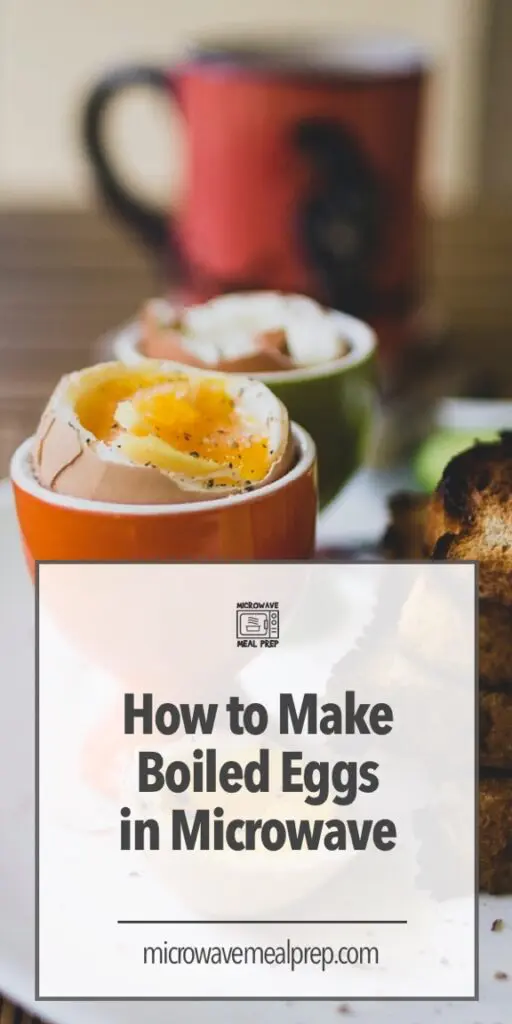 Can you cook whole eggs in the microwave?
You can microwave whole eggs. However, you need to be careful about some important aspects.
If you don't follow the correct method, the eggs may explode and make things messy. When it comes to cooking whole eggs in the microwave, the first step is to microwave a bowl of water.
The timer can be set for 3 minutes on 50% power level. The water should be boiling hot and the quantity must be enough to fully submerge the eggs.
As said earlier, you have to prick the eggs' bottom using a wooden pick or safety pin. When the water turns hot, eggs must be placed into the bowl containing hot water.
You need to cover the bowl using a plate before microwaving for 3 minutes. The microwave power has to be halved at this stage.
If you are fond of a runnier yolk, you can take out the eggs and peel after sitting in the hot water for an extra minute. Some people prefer to eat slightly more cooked eggs; if you are one of them, the egg can be kept in hot water for three more minutes for a hard yolk.
Is it safe to make boiled eggs in the microwave?
Boiled eggs in microwave is totally safe, provided you follow a few simple guidelines. Otherwise, there is a chance that the eggs may explode.
To be honest, whole eggs may create some nuisance if you are trying to cook it in the microwave as they tend to explode when overheated. However, there are some proven tips to prevent the burst from internal pressure.
Use salt water, instead of regular water for boiling whole eggs in microwave.
Poke holes in the bottom section of the eggs in order to prevent them from exploding.
Allow the eggs to sit in the hot water for at least a minute before serving.
Use an ice bath to cool the shell and make the egg easier to peel.
Follow these tips and you should avoid the issue and prevent the eggs from an unwanted explosion in the microwave.
How long do you microwave boiled eggs?
Well, the preparation time varies a bit based on the doneness you are trying to achieve. For example, if you are preparing soft boiled eggs, then the preparation time will be comparatively less than the preparation of hard boiled eggs.
Soft boiled eggs take about about 3 minutes in the microwave, while hard boiled eggs need to be microwaved for about 7 minutes. Cooking time is relative to the wattage and heating capacity of the microwave.
Whole Egg in the Microwave
Are you ready to prepare whole eggs in the microwave? Well, whole eggs can easily be prepared through this fast acting kitchen appliance. But, if you are doing it for the first time, then I'll strongly recommend you to stick to the provided guidelines for the best results.
Preparing whole eggs in the microwave is an extremely easy and hassle-free process. Kindly note, microwaving is generally easier and simpler than the standard stovetop preparations.
For making microwave whole boiled eggs, it's also no exception! Let's now dig into the steps for more details about the process.
Before getting started, which one is your favorite, soft boiled eggs or hard boiled eggs? Based on the type you prefer, just play around with the cooking time and experiment with your microwave to learn the perfect amount of cooking time to achieve the level of doneness you enjoy.
Soft Boiled Egg in Microwave
Let's now talk about the cooking time for soft boiled eggs in the microwave. By that time, the recipe will be ready to satiate your taste-buds and of course, these soft boiled eggs come with a perfect runny yolk texture.
In general, it takes just 3 to 4 minutes to microwave a soft boiled egg. The egg while will be set and the yolk will be gooey, runny eggs are a delicacy enjoyed by many!
Hard Boiled Egg in Microwave
If you do not prefer the runny yolk texture of the soft boiled eggs, then you are probably looking for the hard boiled eggs. Slightly increase the cooking time for hard boiled eggs with a firm white and tight yolk.
Gradually increase the microwaving time to 6-7 minutes total, then it will result in a firm white with hard yolk center. When the yolk is overcooked, it will no longer be bright yellow and will start to turn a bluish grey color.
From deviled eggs to egg salad, this firm yolk version of hard boiled eggs are loved by many!
Can you reheat boiled eggs in the microwave?
So, you have already prepared boiled eggs and are now looking for an option to reheat eggs in the microwave before serving. Well, the microwave is a widely used kitchen appliance that is commonly utilized for reheating cold or leftover foods, and it's no exception in this case too!
If you want to reheat boiled eggs in the microwave, then it's absolutely doable. Of course, the reheating time should not be the same as the cooking time.
The best way to reheat boiled eggs is to microwave water in a microwave safe bowl until it is boiling hot. Place the cold boiled eggs into the hot water and let them sit for 10 minutes to gradually warm up on the inside.
You can also microwave the boiled egg, however this is not recommended because it may explode.
If you choose to not listen to our warning, then remove the egg shell and wrap the peeled egg in a moist paper towel to avert a mess if the egg does explode. Nuke for 30 seconds at a time until the egg reaches an internal temperature of 165 degrees Fahrenheit.
If you reheat the boiled egg for more time, then it will become overcooked. So, please be mindful about this step and do not overdo it when you are reheating boiled eggs.
Tips to Microwave Boiled Eggs
As with all cooking, there are different ways to achieve similar results. For whole boiled eggs, the main concern is all about the potential of an explosion. You can easily overcome this issue with a few advanced preparations.
For the best outcomes, here are some important tips that I'll strongly recommend you to follow when microwaving boiled eggs:
Use salt water for boiling the eggs. Salt lowers the boiling point and reduces the intense heat that can cause the egg to explode.
Lightly prick the bottom section of the egg with a safety pin or any thumbtack. This allow room for the egg to expand as pressure builds up inside the shell.
Be careful about the cooking time. For soft-boiled eggs, the cooking time will be less as you are opting for the runny yolks. But, if you are going for the hard-boiled eggs, then you should increase the cooking time a bit more so that it results in a solid yolk.
Use microwave-safe cooking bowl. This tip is applicable to all preparations that you are trying out in the microwave.
Be aware of the quantity of water. It should be deep enough to submerge the egg with at least 1" of water above the top of the egg. However, too much water will result in a boil over.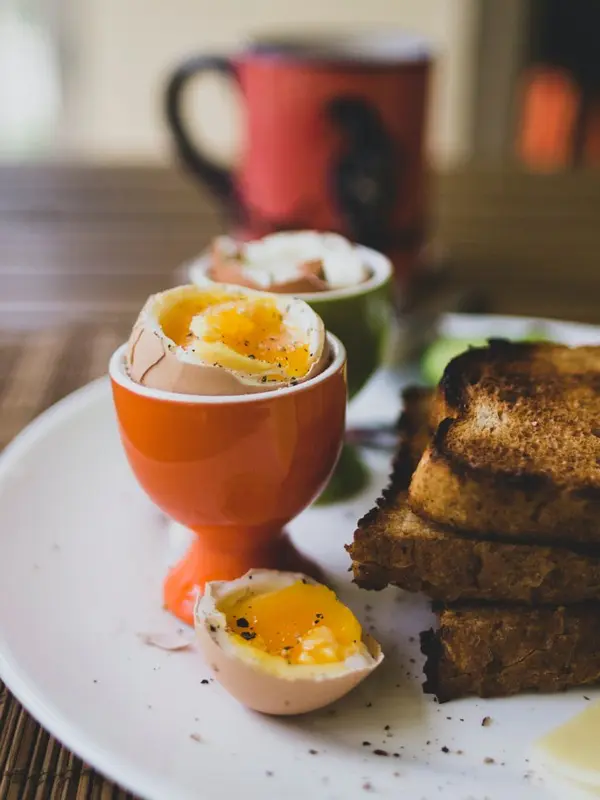 Yield:

Microwave Boiled Eggs
Microwave Boiled Eggs
Additional Time:
1 minute
Eggs can be soft boiled, hard boiled, and everything in between. Here are step by step instructions to boil an egg in the microwave.
Ingredients
1 egg
2 cups water
1 teaspoon salt
Instructions
Mix the water and salt in a microwave safe bowl. Nuke for 2-3 minutes, or until the water has boiled.
Poke the bottom of the egg with a safety pin or thumbtack.
Place the whole egg into the hot water, and cover it with a microwave safe saucer plate.
For soft boiled eggs, microwave on medium power for 2 minutes and let the egg sit in the hot water for 1 minute.
For a hard boiled egg, then you can leave the egg in the hot water for 4 minutes before peeling.
Transfer the hot eggs to a bowl of ice cold water. This will help release the shell from the membrane and make it easier for you to start peeling.
Nutrition Information:
Yield:
1
Serving Size:
1
Amount Per Serving:
Calories:

72
Total Fat:

5g
Saturated Fat:

2g
Trans Fat:

0g
Unsaturated Fat:

3g
Cholesterol:

186mg
Sodium:

90mg
Carbohydrates:

0g
Fiber:

0g
Sugar:

0g
Protein:

6g