*This post may contain affiliate links. Please see my
disclosure
to learn more.
People all around the world enjoy eating eggs. Offering high amounts of proteins, minerals, vitamins, and antioxidants; eggs offer densely packed caloric and nutritional value that is beneficial for overall health.
Eggs can be prepared in a multitude of ways. Based on your personal preference, you can customize the preparation and combination of flavors to personalize any type of eggs you enjoy.
Can you cook eggs in microwave? You can microwave eggs in any way you like it. You can scramble, poach or even fry the eggs. In fact, many egg connoisseurs believe that eggs cooked in a microwave taste better than eggs cooked on stovetops or other cooking devices.
You may do well by following a tip or two provide in this guide. Let us discuss all these aspects of how to make eggs in the microwave in detail as we thoroughly detail the specifics.
Guide to Microwaving Eggs
There are countless ways to cook an egg. In fact, a professional chef's toque has 100 folds, and each pleat represents one way to cook an egg.
In this guide we won't be covering all 100 ways to cook an egg in the microwave. However, we hope to cover the most popular egg dishes and provide you with the best microwave cooking tips.
Can you microwave eggs?
Yes, you can microwave eggs to prepare almost any way you like. Microwaving eggs can save energy and time with this efficient cooking method.
Nowadays, many people use a microwave to cook eggs. If you are searching for a practical and convenient method, microwaving is one of the best choices available.
Eggs are a versatile food item that are used in baking, cooking and even as a main dish.
We are curious to know how you use eggs in the microwave? Share your favorite ways to microwave eggs with us!
Whether you're a professional chef or just a microwave aficionado, there are so many classic egg dishes you can make in a microwave.
Here are popular microwave egg dishes:
Breakfast casserole
Frittata
Omelet
Quiche
When it comes to microwaving fried eggs, there are options based on the level of doneness that you prefer and your personal favorite.
Here are some of the popular choices when it comes to frying eggs in a microwave.
When preparing a fried egg, the main difference between each preparation is the consistency of the yolk. The selection you make is determined by whether you prefer runny eggs, hard yolk or any level in between.
Sunny side up eggs give you the runniest yolk, while over hard eggs have a solid yolk. There are different levels of doneness based upon the internal temperature of the cooked egg ranging from 140°F – 167°F (or sunny side up to hard cooked).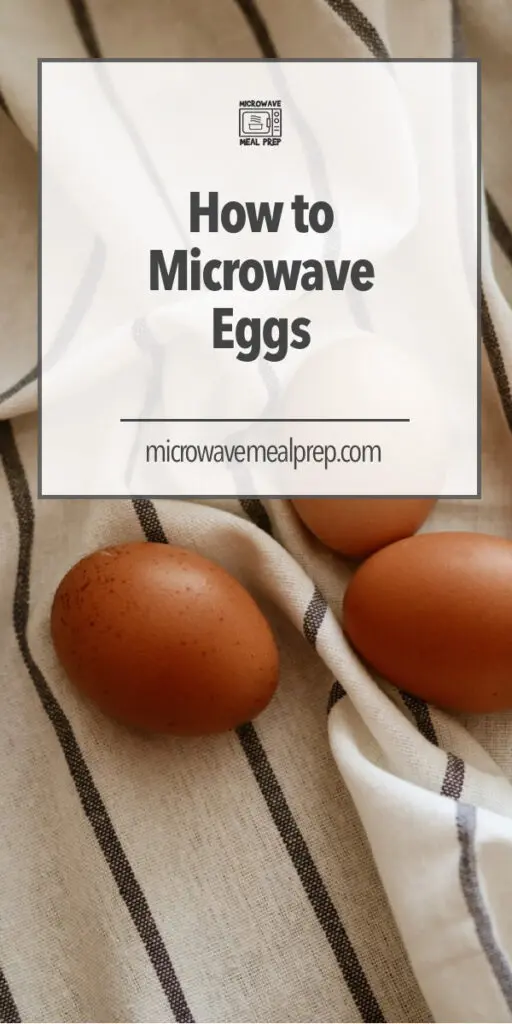 Is it safe to eat a microwaved egg?
As mentioned above, it is extremely safe to eat a microwaved egg. This method preserves the maximum about of nutrients compared to frying or baking, which adds extra cooking oils that have a tendency to overheat and cause nutrients to deteriorate.
Keep the microwaving time to a minimum to preserve freshness and deliver the level of doneness that you enjoy. Use short intervals to avoid overcooking the egg as it really only take a minute to microwave most egg dishes.
So, microwaving eggs is a healthy way of cooking. Within a few moments of cooking time and minimal supervision needed when it comes to using a microwave. After setting the time, you can walk away and focus on other important tasks.
Does microwaving eggs destroy nutrients?
Whenever you cook eggs, especially when food is overcooked, some nutrients are lost. However, the best method to reduce the loss of nutrients is to keep the heating process short with the use of a minimal amount of liquid.
That is what exactly happens when you microwave eggs.
Some people assert that microwaves are a source of dangerous radiation, however this thought process is wrong. Ionizing radiation is the type of radiation that results in serious health issues, however microwave radiation is non-ionizing and does not chemically change the cell structure in the egg.
Furthermore, it is important to remember that the majority of the nutrients are available in the egg yolk. To retain the maximum nutritional availability in eggs, it is important to avoid overcooking the yolk.
The bottom line is that microwaving is one of the safest and healthiest ways of cooking eggs. So, you don't need to worry about the microwave destroying nutrients.
How long should I microwave an egg?
The exact microwaving time depends on a few factors, including the cavity size, wattage of a microwave, amount of eggs being cooked, expected consistency of yolk, and taste preferences such as liquids and mix-in ingredients. If you are using a 1000-watt microwave oven and keep the microwave at High or 100% power, you just need 30 to 60 seconds to microwave a runny egg.
On medium or 50% power, the egg has to be kept for 45 seconds. It is always advisable to let stand for half a minute before removing the lid or paper plate.
When it comes to making hard cooked eggs, the duration can take up to 2 minutes when microwaved on High. Allow the egg to remain on the plate in the microwave for at least a minute before removing the lid.
If you find the egg undercooked, you can flip the egg over and microwave for 15 second intervals. However, cooking time can vary based on the wattage of the
For microwave ovens with a lower wattage than 1000, the cooking time needs to be increased slightly.
For microwave ovens with a higher wattage than 1000, the cooking time needs to be reduced slightly.
It is always advisable to start with the shortest time possible. You can increase it in 10-second intervals.
Why did my egg explode in the microwave?
Eggs tend to explode in the microwave because the water content gets superheated. The shell and yolk membrane can act as a barrier that traps the steam under pressure.
You should be very alert when boiling eggs without removing shells in a microwave. The shell of an egg may explode if it does not have the vent to release steam.
Since the heating process occurs very fast in the microwave and pressure builds up immediately, the steam eventually bursts through the shell.
You can prevent this situation by piercing the yoke in an unbeaten egg. The vent you create lets the steam escape safely to prevent the explosion.
How to cook an egg in the microwave without it exploding? It would be a good habit to pierce the bottom of the egg shell, the yolk or even whisk the egg before microwaving to prevent it from exploding. Additionally, it is recommended to allow the egg to sit for 30 to 60 seconds after heating to allow the internal temperature to normalize.
Eggs may explode if you don't microwave them properly. Some precautions guarantee a positive cooking experience. Generally, speaking eggs in shells are more likely to explode while microwaving. Since a microwave promotes rapid heating and sudden steam buildup, eggs can also explode while out of the shell because pressure is trapped underneath the thick membrane layer.
It would be a good habit to pierce the yolk, poke the bottom of the egg shell with a pin or even whisk the egg before microwaving.
Can you microwave eggs in a paper bowl?
How to microwave eggs smartly? The most practical and easiest way is to crack the egg and place the yolk in a bowl. When you pour melted butter on a plate, make sure that it is a microwave-safe plate.
Is it safe to microwave eggs in a paper bowl? You can microwave eggs in a paper bowl that is labeled as microwave-safe.
You can cover the paper plate using another one before placing it into the microwave. The plate can be taken out after one minute, however the exact duration should be based on the type of egg dish and your taste preferences.
The bottom line is that you can cook eggs in microwave using a paper plate as long as it is microwave-proof.
Can you reheat eggs in the microwave?
Majority of egg dishes reheat very welling the microwave. Make egg dishes ahead of time with confidence, and reheat eggs in the microwave when it comes time for a quick meal.
The microwave is the preferred method for reheating eggs, and using a paper towel to wrap the egg helps to retain moisture and overall quality.
Use a microwave safe dish, nuke on reheat or 50% power level, stick to short microwaving intervals and cover with a lid to trap moisture so the eggs don't dry out. Fair warning that overcooking will cause the egg to become dry and rubbery.
Whether you are reheating eggs from breakfast time, or that have sat around for a couple days, the microwave will warm them up in just a few minutes.
The exception to this rule being frozen boiled eggs, as the yolks holds up well while the whites really don't live up to the task. When you reheat boiled eggs in a microwave, use a microwave safe bowl filled with hot water as a water bath to gradually heat the peeled egg without causing an explosion.
How Do You Cook Eggs in a Microwave?
As previously mentioned, there are several ways to microwave eggs. You can choose options based on convenience or personalize to suit your unique taste.
No matter whether you want to fry, scramble, poach eggs, you can use a microwave. It is also possible to boil whole eggs in a microwave oven.
When it comes to cooking egg in a microwave, you need to follow the right methods to avert the potential risk of the egg exploding inside the appliance. Other than that, the microwave is safe and effective method to make the food healthy, nutrient-rich, and tasteful.
Liquid Eggs
Microwaving whole eggs are more vulnerable to explosion and other related-complexities. You don't need to worry unnecessarily about these issues when you break open the egg before microwaving.
Liquid eggs, especially egg whites are very easy to handle. You can purchase packaged liquid eggs and egg whites nowadays, which makes the entire process that much easier.
When it comes to microwaving liquid egg whites, you need to make sure that the whites have set properly. In other words, make sure that the whites are fully cooked.
You need to separate the egg white from the yolk, or whisk the whole eggs together. The next step is to grease a microwave-safe bowl using butter, oil or cooking spray.
Then, you can put the egg whites into the prepared bowl. Place the bowl in the oven microwave for 15 seconds at 50% power.
Using a fork, the whites must be vigorously whisked just before microwaving. As mentioned above, the most important thing is that the egg white liquid needs to get cooked properly or set in in the bowl; egg whites don't have the fat to help maintain moisture levels so they tend to dry out quickly.
After removing the egg white from the microwave, you should stir well. It is always advisable to cover the bowl with paper towel or plastic wrap while microwaving, and allow the egg white sit for an extra minute to carryover cook and prevent any kind of explosion.
Just Eggs
Just Eggs are a plant-based alternatives to eggs, which can also be microwaved without much effort. They look similar to liquid eggs and have a similar consistency, so they should be handled in an almost identical manner.
After whisking the egg substitute, pour it into a slightly grease microwave-safe bowl. Cover with a microwavable lid and nuke for 45 seconds, then fluff with a fork and microwave for another 1 minute.
Add you favorite mix-ins like beans and cheese, then top with salsa and avocado and viola!
Eggs in Shell
Do you want to make an egg in a microwave without removing the shell? You must poke a hole in the bottom of the eggshell with a pin or needle and microwave the egg in a microwavable bowl full of hot water.
You have to be alert and take some precautions to prevent the shell from exploding. A microwave oven heats the egg extremely fast, which in turn increases the pressure buildup caused by steam.
If you allow this to happen, the steam eventually bursts through the eggshell causing a big mess inside the appliance. You should pierce the bottom of the shell before microwaving a hard-boiled egg, this helps the steam to escape through the small vent which helps avert a potential disaster.
Can you microwave an egg in the shell? It is not advisable to microwave eggs in shells unless you poke a hole in the shell to encourage the release of steam pressure.
When you make eggs in microwave, you should take the eggs out of their shells. Using intense energy waves, microwaves cook food very fast.
The main target of the energy is the water molecules in the food. The molecules begin to vibrate which generates friction causing heat to buildup quickly.
Microwaving intensifies steam even before allowing the eggs to exhale it through their pores. This situation can lead to the bursting of steam through the shell resulting in an egg-plosion.
So, you must prick the bottom of the eggshell with a thumbtack or sharp object before microwaving. Therefore the steam is allowed to escape safely through the vent.
The only way you can microwave eggs in shells is to place them in a bowl of hot water like you normally do when microwaving a boiled eggs. Do not microwave an egg by it self, no matter if you poke a hole or not it is going to explode!
What is the best way to microwave an egg?
There are several different ways available to cook eggs in a microwave depending on personal preference and the style of egg you enjoy eating. You can scramble, poach, boil, or fry eggs using a microwave.
Omelets, frittatas, quiche and egg sandwiches can also be made as well. Therefore, it is hard to put a finger on one and pick the best method that is acceptable to all.
Different people have different taste preferences, needs, and interests. As a result, your chosen method may not be the best one for someone else.
Microwaving Eggs: Final Thoughts
When you make eggs in a microwave, you need to be aware of some important aspects. The microwave wattage, capacity level and number of eggs being cooked can affect the performance of the appliance.
Eggs can be prepared in so many different ways that its hard to keep track of them all, and to top it off everyone has their own favorite type of egg dish they enjoy most. Eggs are quite simple to cook, and the microwave is the easiest way to make eggs in just a few minutes.
Eggs can be fresh, refrigerated and frozen, the results are minute when it comes time for cooking.
Containing increased levels of fat, egg yolks cook much faster and at hotter temperatures compared to whites. So, more even cooking can be associated with all preparations that call for beaten or whipped eggs compared to whole egg preparations.
The egg size must be a vital consideration if you want to cook an egg in a microwave. Jumbo eggs demand more cooking time than medium eggs.
You must make efforts to make the cooking even in all possible ways. Stirring ingredients at short intervals is a smart step to promote even cooking.
Overheating the eggs should also be avoided, therefore it is always advisable to start with minimal time increments. You can keep adding time in 10-second durations to keep an eye on the prize and prevent overheating as best as possible.
The bottom line is that you can make eggs in microwave that is healthier compared to other types of cooking methods because they require far less cooking oils. Heating eggs for only a minimal time, microwaving promotes nutrient retention, save times and is energy efficient.