*This post may contain affiliate links. Please see my
disclosure
to learn more.
This super easy Oreo mug cake is a delightful dessert! It gained popularity on TikTok. Its simplicity and speed are the reasons behind its viral fame. With just 2 minutes and 2 basic ingredients, you can whip up this luscious, chocolaty treat that is soft and gooey. Each bite of this microwave mug cake brings the delightful flavors of cookies and cream. Indulge in its decadent goodness!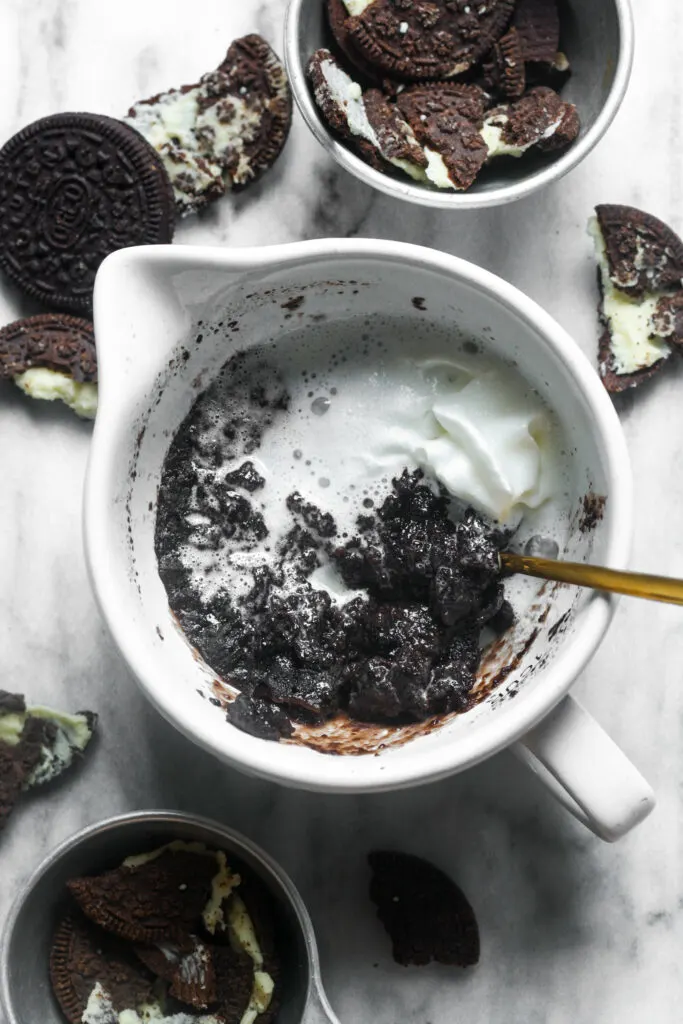 Why You Will Love This Recipe
This Oreo mug cake is a breeze to prepare.
It only calls for two ingredients and takes just 2 minutes to complete.
The texture is soft, gooey, and moist, making it perfect for impromptu desserts or unexpected guests.
Great for both kids and adults.
This single-serve cake is an ideal option for indulging on your own.
The best part is there's no need to heat up the oven or deal with a pile of dishes afterward.
The Oreo flavor is rich and delightful.
It is a great choice for a small dessert, sweet treat, or snack.
You can use any flavor of Oreo you like, and the recipe can also accommodate gluten-free Oreos if desired.
This quick and easy dessert is a hit with both kids and adults alike.
Check out this Peanut Butter Mug Cake or this Protein Mug Cake for another delicious dessert!
What is a Mug Cake?
A mug cake is a simple and quick dessert. It is made in a microwave using a mug as the cooking vessel. It typically consists of basic ingredients like flour, sugar, baking powder, and flavorings, mixed together in the mug.
For this recipe, only milk and Oreos are needed!
The batter is then microwaved for a short time, usually just a few minutes, until it cooks and rises. This results in a single-serving cake with a soft and moist texture.
Mug cakes are popular for their convenience and versatility, as they can be customized with various flavors and toppings.
Ingredients and Substitutions
Scroll down to the bottom for the full Oreo mug cake recipe.
Choose any flavor of Oreo cookies! This recipe can be any flavor you prefer. In addition, the gluten-free Oreos work well too.
Both regular milk and dairy-free work well. Choose whichever you have on hand.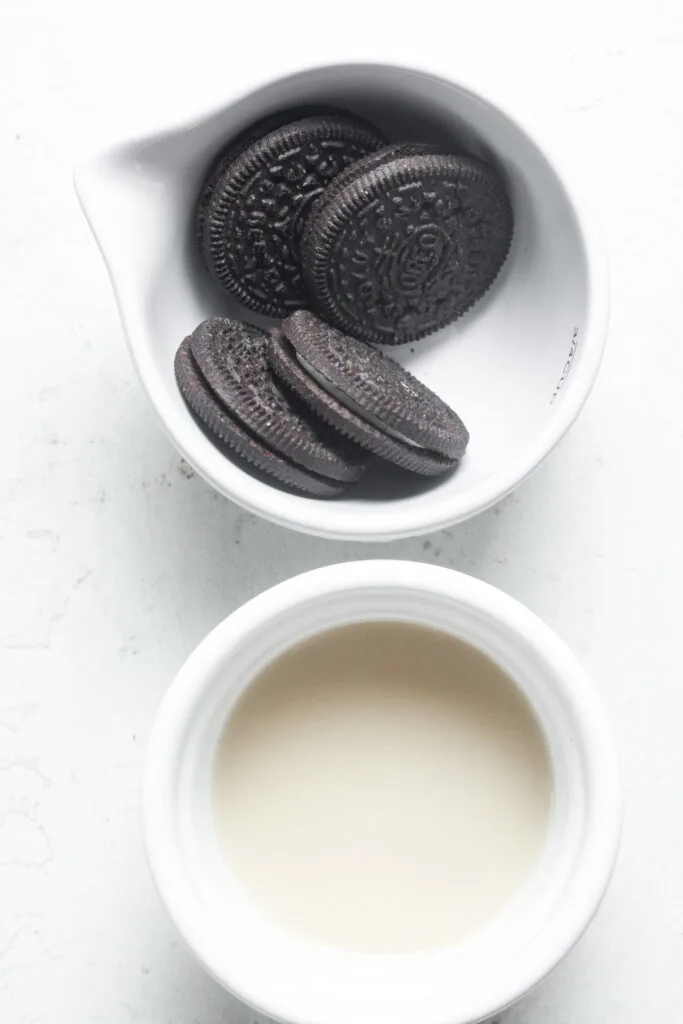 Taste and Texture
This Oreo mug cake offers the distinct and unmistakable flavor of Oreo cookies. This recipe combines the richness of chocolate with the delightful taste of cookies and cream.
Every spoonful is filled with moist cake and a strong Oreo flavor. This homemade mug cake has a moist and gooey texture, ensuring a melt-in-your-mouth delicious treat!
How to Make
Step 1
To begin, add the Oreo cookies to a microwave-safe bowl or mug. Use a fork to mash up the cookies, until they become crumbs.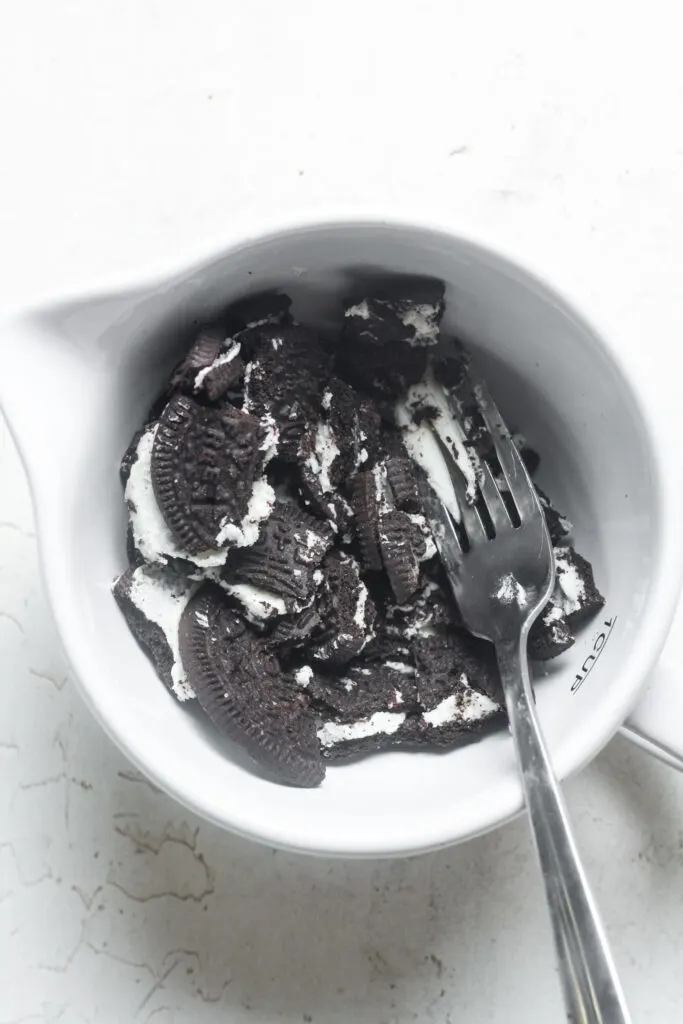 Step 2
Then, pour in the milk. Stir to combine.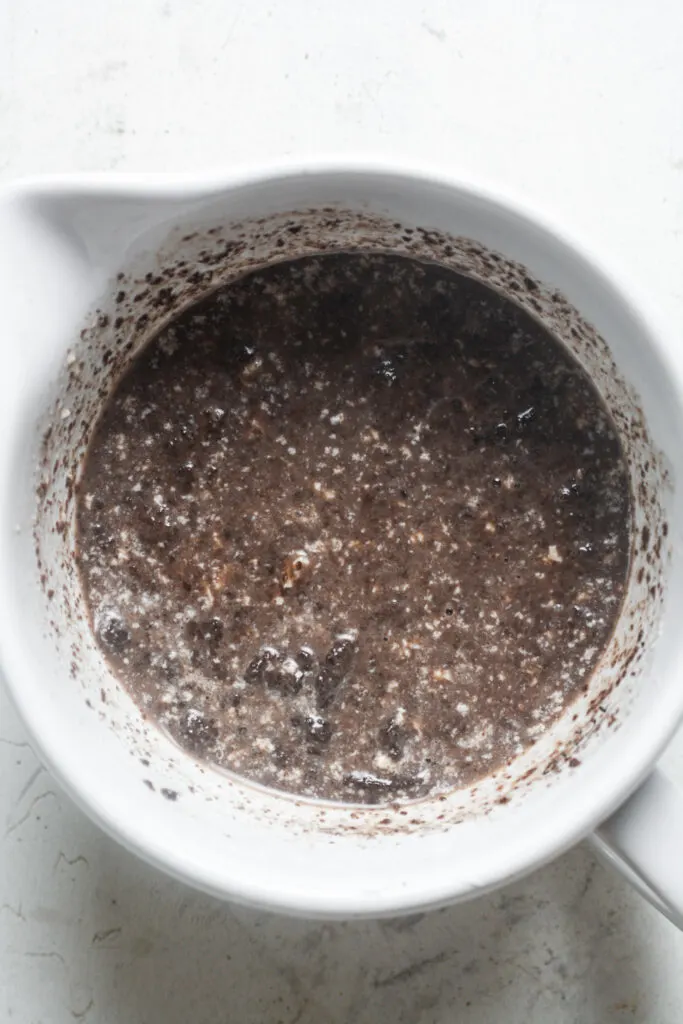 Step 3
Microwave on high for 50 to 60 seconds. Check the cake after 50 seconds. Then, continue cooking in 10-second increments if needed.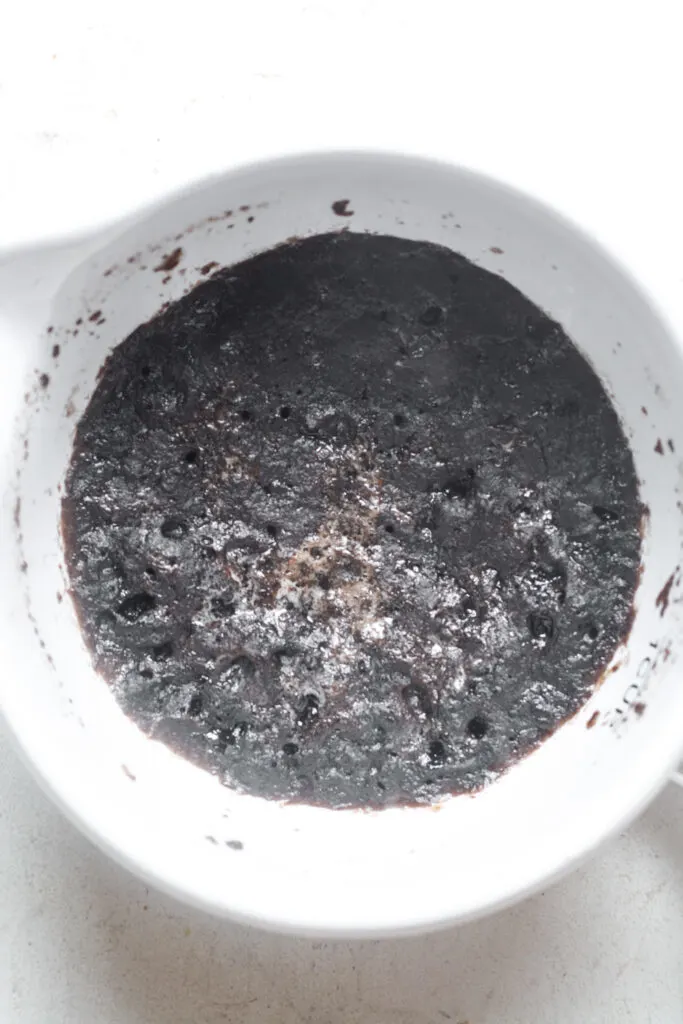 Step 4
Finally, carefully remove the Oreo mug cake from microwave. It will be hot! Serve with whipped cream or ice cream.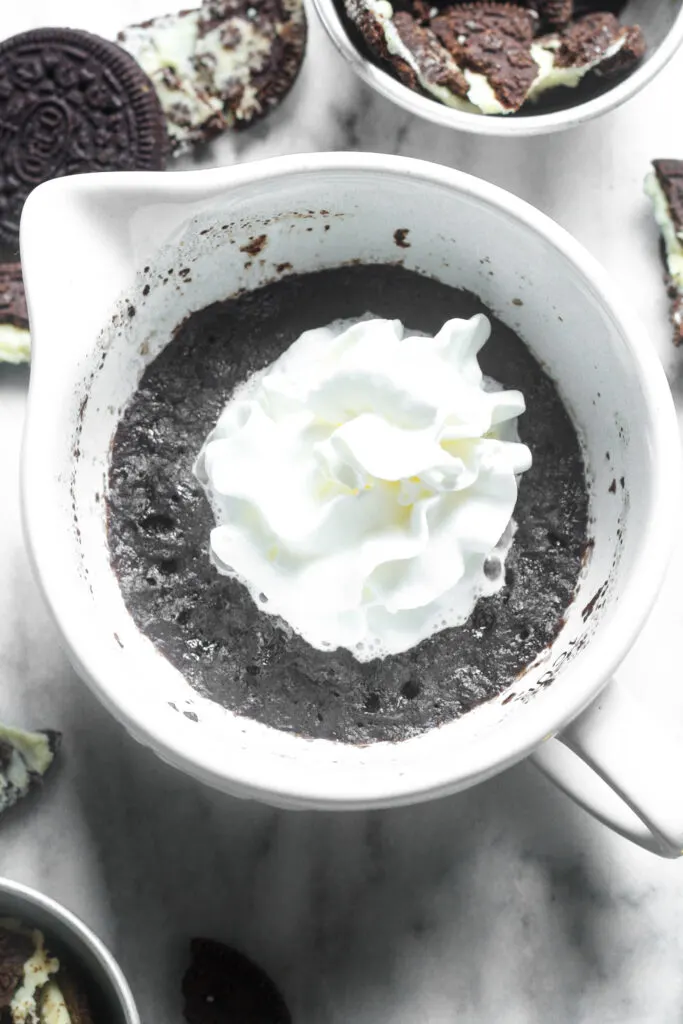 Expert Tips & Tricks
Make sure to crush the Oreo cookies thoroughly.
Be cautious when taking the mug out of the microwave as it will be very hot. Use an oven mitt to handle it carefully.
As the mug cake will be hot, consider adding a scoop of ice cream on top for a delicious combination!
Customize the mug cake by trying various Oreo flavors like mint or peanut butter.
Due to variations in microwave power, begin by microwaving for only 50 seconds. Then check the Oreo mug cake. If a toothpick comes out with raw batter, continue microwaving in 10-second intervals until fully cooked.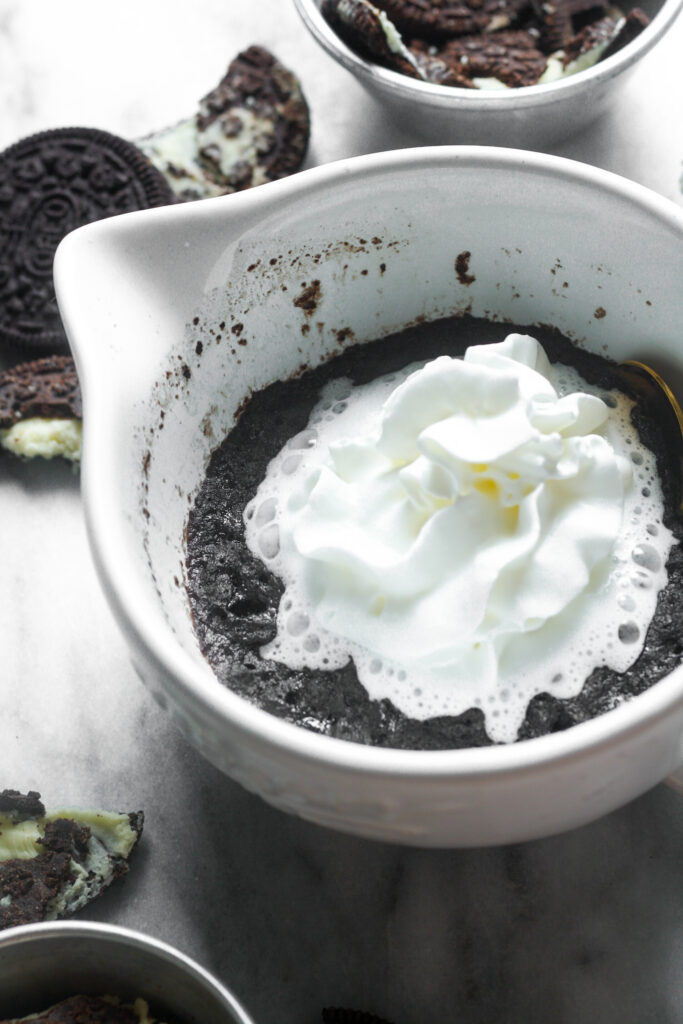 Toppings and Flavors
There are numerous toppings you can add to enhance the flavor and texture of your Oreo mug cakes. Here are some delicious options:
Whipped Cream: A classic topping that adds a light and fluffy touch to any mug cake.
Chocolate Syrup: Drizzle some chocolate syrup over the cake for an extra dose of chocolaty goodness. Nutella is another great idea. Or, make this Nutella Mug Cake!
Fresh Berries: Top the cake with fresh berries like strawberries, blueberries, or raspberries for a fruity and refreshing twist.
Nuts: Crushed or chopped nuts, such as almonds, walnuts, or pecans, can provide a delightful crunch and nutty flavor.
Caramel Sauce: Drizzle some caramel sauce over the cake to create a rich and indulgent treat.
Chocolate Chips: Sprinkle some chocolate chips over the batter for extra bursts of chocolate throughout.
Cookie Crumbles: Crushed cookies, such as more Oreos or graham crackers, can add a tasty and crunchy texture.
Nut Butter: Swirl in some peanut butter, almond butter, or Nutella for a creamy and nutty taste.
Sprinkles: Colorful sprinkles can add a fun and festive touch to your mug cake.
Ice Cream: Serve the warm mug cake with a scoop of ice cream on top for a delightful contrast of temperatures and flavors.
Feel free to mix and match these toppings to create your own delicious combinations and enjoy your personalized Oreo mug cake!
How to Serve and Store
After preparing your Oreo mug cake, you can savor it directly from the mug as you please!
For an extra indulgence, you can enhance it with a scoop of ice cream, a dollop of whipped cream, or a drizzle of chocolate sauce.
For optimal enjoyment, it is best to consume the mug cake right after microwaving.
If you happen to have any leftovers, you can store them in an airtight container in the refrigerator for up to 24 hours. However, the texture might not be as perfect as when freshly made.
Frequently Asked Questions (FAQs)
Why did the Oreo mug cake go viral on TikTok?
Oreo mug cakes went viral on TikTok because they are so quick and easy! Everyone loves this little dessert.
Can I use another type of Oreo cookie?
Sure! Use any flavor you want.
What is the best mug for this recipe?
Use a mug that is at least 8 ounces in capacity. I recommend using one that is even larger.
Can you make a bigger mug cake?
Sure! Feel free to double this recipe and use a larger mug.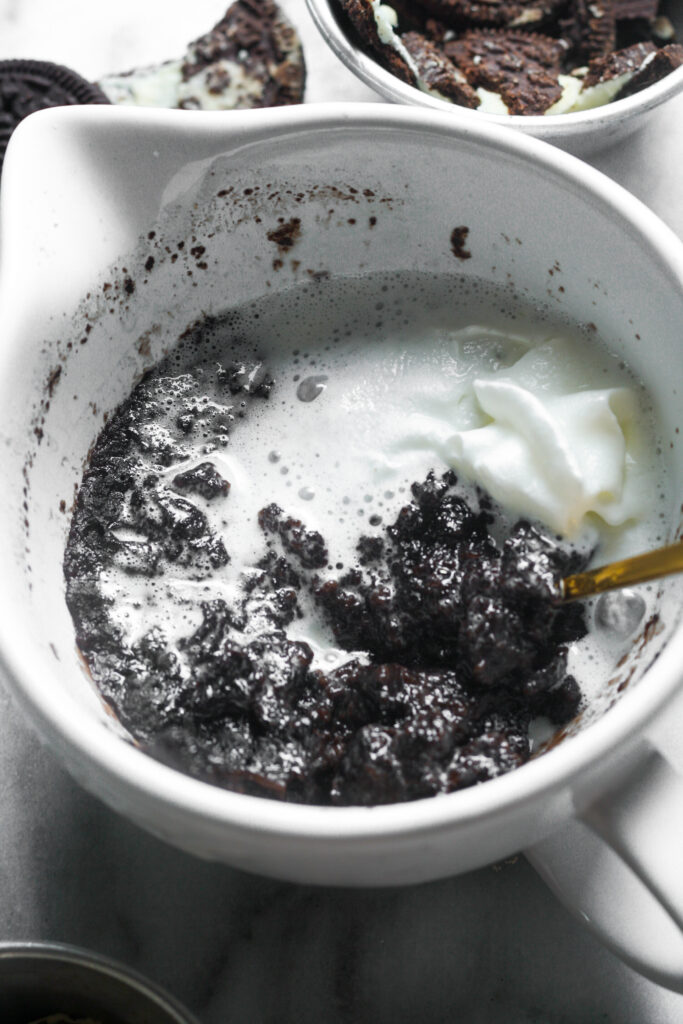 Equipment Needed
Microwave Safe Mug: These mugs are very large but great for making mug cakes!
Set of 4 Mugs: These mugs are a little smaller.
Check out all of my kitchen favorites!
You May Also Enjoy
This Oreo mug cake is a quick and easy dessert! It requires only 2 ingredients and 1 minute in the microwave. This mini cake is great for a simple dessert or snack. It has a delicious cookies and cream flavor!
Ingredients
4 Oreo cookies
2 tbsp milk
Instructions
To start, add the Oreo cookies to a microwave-safe bowl or mug. Use a fork to mash up the cookies, until they become crumbs.
Then, pour in the milk. Stir until combined.
Microwave on high for 50 to 60 seconds. Check the cake after 50 seconds. Continue cooking in 10-second increments as needed.
Finally, carefully remove from the microwave. It will be hot! Serve with whipped cream or ice cream.
Notes
Use any flavor of Oreo cookies!
All microwaves are different. Your mug cake may need more or less time.
The mug cake will still look soft and slightly gooey when it comes out of the microwave.
Nutrition Information:
Yield:
1
Serving Size:
1
Amount Per Serving:
Calories:

220
Total Fat:

10g
Saturated Fat:

3g
Trans Fat:

0.01g
Unsaturated Fat:

5g
Cholesterol:

4mg
Sodium:

198mg
Carbohydrates:

35g
Fiber:

1g
Sugar:

21g
Protein:

3g