*This post may contain affiliate links. Please see my
disclosure
to learn more.
Scrambled eggs have been a staple item on the breakfast table because they are super delicious, extremely nutritious, and very easy to cook. But, did you realize that you can easily microwave scrambled eggs in microwave with butter?
How do you microwave scrambled eggs with butter? Use a microwave safe bowl to melt the butter. Scramble the eggs with the melted butter, milk and seasonings. Microwave for 30 second intervals, fluff with a fork after each duration and cook until done, about 1 to 2 minutes.
Yes, you have heard it right, microwave eggs are hassle free cooking that save time and taste great! Just take a quick look below for tips, techniques and instructions to make the best scrambled eggs with butter in the microwave.
Is microwaved scrambled egg with butter healthy?
Yes, it is healthy to microwave scrambled eggs with butter. The nutritional value of this recipe includes high amounts of protein as well as it contains iron, vitamin B-12, and vitamin D.
To be more precise, a serving of microwaved scrambled eggs (two eggs) contains twelve grams of protein. As you probably know, protein is the primary building block for muscles and it's important for your immune system too.
Additionally, eggs are an excellent source of omega-3 fats.
Likewise, iron present in the scrambled egg recipe is responsible for carrying oxygen to the tissues.
Whereas, vitamin B-12 helps your body produce more red blood cells. Scrambled eggs also contain vitamin D that plays a significant role in building strong bones, fostering cell growth, and preventing Type 2 diabetes.
Can you microwave scrambled egg with butter?
Yes, you can definitely microwave scrambled eggs with butter. The process is not only hassle-free, but also requires a minimal effort and very little cooking time.
So, if you do not have enough time in preparing scrambled eggs on the stovetop, then the microwave process is the best way to go.
Is there any taste difference between the stovetop scrambled eggs and microwave scrambled eggs with butter? Not at all! Rest assured that the taste of the final preparation will be heavenly delicious, soft, fluffy, and creamy.
Microwaving doesn't impart any off putting flavors unless the inside of the microwave is dirty, or the you are using an old plastic container with bad odors permitted into the material.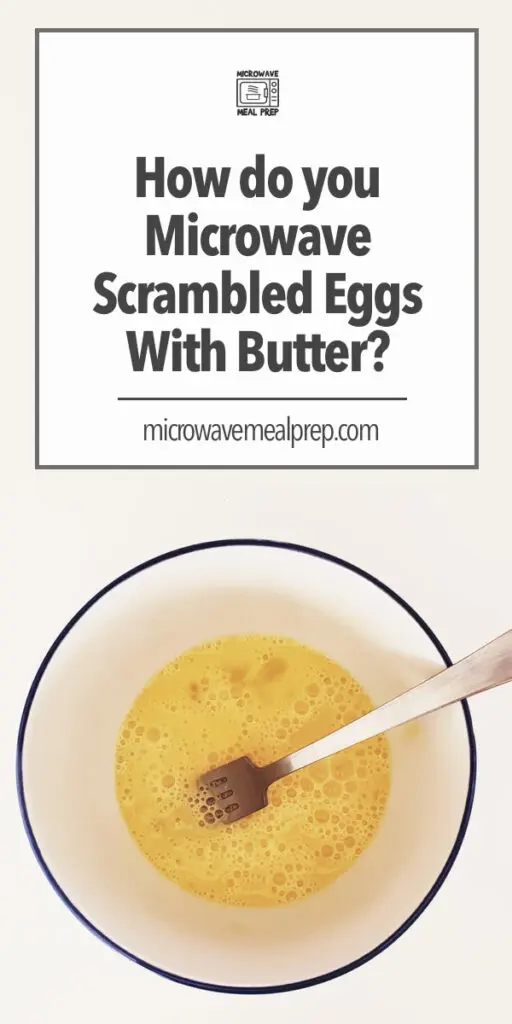 Is it safe to eat microwaved scrambled eggs with butter?
Microwave scrambled eggs with butter are absolutely safe to eat. Your microwave is not just meant for heating up packaged foods or reheating tasty leftovers.
Instead, it can be used in a variety of ways. One such option is to use your microwave for cooking eggs from scratch.
Scrambled eggs with butter are one of the quickest and easiest recipes that you can prepare in your microwave oven. The process is so simple that you won't face the slightest struggle.
The preparation is safe to eat and it features a lengthy list of nutritional components.
How long do you microwave scrambled eggs with butter?
Cooking time is never constant in any preparation, and it's no exception when microwaving scrambled eggs with butter. The cooking time will be between 1 to 2 minutes.
Now, you must microwave the scrambled eggs with butter for at least one minute (two intervals of thirty seconds) so that the eggs get cooked thoroughly and are not completely raw. After microwaving for the first round of 30 seconds, you will need to bring out the dish and give the scrambled eggs quick fluff with a fork.
If you feel that the preparation needs some more time to cook, then you can microwave it for another 30 seconds. In any case, the microwave cooking time for scrambled eggs with butter should not exceed 3 minutes.
When overcooked, you risk burning the entire recipe. If you continue microwaving for a long time, the eggs will completely dry out and possibly burn around the edges.
Also, there is one more factor that you should take into account. Different microwave models come with different settings and wattage capabilities.
Some microwave models may require a longer cooking time as compared to the other models. However, 3 minutes in a microwave is a long time, no matter what brand you are using.
Since you already have a rough idea about your specific microwave model, you will better understand whether it takes more or less time to prepare a dish.
Based on this idea, you may need to slightly alter the recommended cooking time when microwaving scrambled eggs with butter.
Can you reheat scrambled eggs with butter in the microwave?
Yes, you can reheat the scrambled eggs with butter in the microwave. If the scramble has turned cold, it will take slightly longer to reheat than if the eggs are still at room temperature.
As you already know, the microwave is a popular kitchen appliance that is widely used for reheating eggs that cooled down.
If you have scrambled eggs with butter that have cooled down a while ago and it has turned cold, then do not think twice. Just place the dish in the microwave oven and reheat for around thirty seconds or until the internal temperature reaches 160 degrees Fahrenheit.
That's it! Your dish will now become warm and it's ready to savor your taste-buds.
Tips to Microwave Scrambled Eggs With Butter
Microwaving scrambled eggs with butter is relatively easy to do once you understand the cooking basics. Here are helpful tips to improve the process when you make scrambled eggs with butter in the microwave:
Use a microwave-safe container or dish.
Do not exceed the maximum cooking time or the scrambled eggs may burn or overcook.
Serve the microwaved scrambled eggs with butter immediately after cooking. This will help to avoid any reheating hassle.
If you are preparing this scrambled eggs with butter for the first time, nuke for 30 second intervals and keep checking the status of the eggs in the microwave you are using. Until you become familiar with the microwaving time required for this preparation, it is recommended to use short intervals and check on the egg often.
You can season the final dish with salt and pepper, or your favorite sauces.
In your preparation, add some milk or water to make fluffy scrambled eggs and keep the preparation soft and moist.
To further enhance the taste of this dish, you can experiment with different types of mix-in or toppings.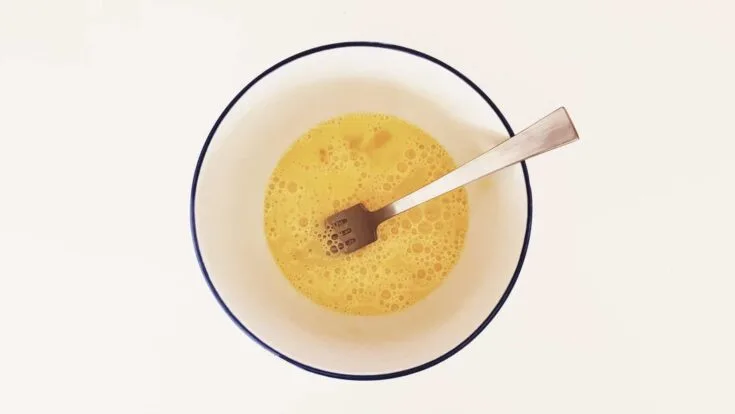 Yield:

1 scrambled egg with butter
Microwave Scrambled Eggs With Butter
When prepared correctly, scrambled eggs are soft, moist and creamy. Here are step by step instructions to microwave scrambled eggs with butter.
Ingredients
1 Egg
½ teaspoon Butter
1 tablespoon Milk or Water optional *
Salt and Pepper to taste optional *
Instructions
Start with a microwave-safe bowl, and microwave the butter for 15 seconds so the butter melts.
Add the egg, milk and seasoning. Whisk the ingredients or beat with a fork until they are frothy and airy.
Microwave the egg mixture for thirty seconds.
Fluff the scrambled eggs with a fork and microwave for another thirty seconds.
If you still find that the scrambled eggs are undercooked or a little raw, then gently stir the mixture and microwave for 10-15 seconds or until reaching the desired doneness.
Serve right away if you feel the dish has been cooked nicely and scrambled eggs with butter are not raw anymore.
Notes
The final preparation should be moist, fluffy, and soft.
Nutrition Information:
Yield:
1
Serving Size:
1
Amount Per Serving:
Calories:

88
Total Fat:

7g
Saturated Fat:

3g
Trans Fat:

0g
Unsaturated Fat:

3g
Cholesterol:

191mg
Sodium:

86mg
Carbohydrates:

0g
Fiber:

0g
Sugar:

0g
Protein:

6g