*This post may contain affiliate links. Please see my
disclosure
to learn more.
Who doesn't enjoy delicately cooked scrambled eggs, but sometimes we don't have enough time to make scrambled eggs on the stovetop. Here is the quick hack for such situations, you can microwave scrambled eggs in a mug for a perfectly delicious quick fix!
How do you microwave scrambled eggs in a mug? Use a large sized microwave safe mug, grease the inside with oil or butter, crack the egg inside and whip with a fork. Microwave for 15 second intervals, fluffing the egg with a fork in between each duration, and nuke about 1 minute total or until the scrambled eggs are fully cooked.
Yes, all it takes is 1 minute! This is the quickest way to enjoy the scrumptious and most delicious breakfast when you're in a hurry.
Not just the scrambled eggs, you can microwave eggs to make your favorite preparations in no time. This article covers the details about microwaving scrambled eggs in a mug, continue reading to learn microwaving tips and the best methods to use.
Can You Microwave Scrambled Eggs In A Mug?
Yes, you can microwave your scrambled eggs in a microwave safe mug. It is a quick breakfast hack that you can try when you're pinched for time.
Not just in a mug, you can use any microwave-safe dish to prepare scrambled eggs in the microwave. The best part is, you don't have to clean up much, no dirty pans, no dirty kitchen surfaces.
The best thing about scrambled eggs in a mug is that you can cook and eat in the same dish. Yay for efficiency!
You can take your mug scrambled eggs to another level by finishing them off with your favorite mix-ins or toppings. You can use hot sauce, shredded cheddar or crispy bacon strips. If you want to do a little extra, you can make a loaded sandwich with some avocado, lettuce, tomato and cheddar.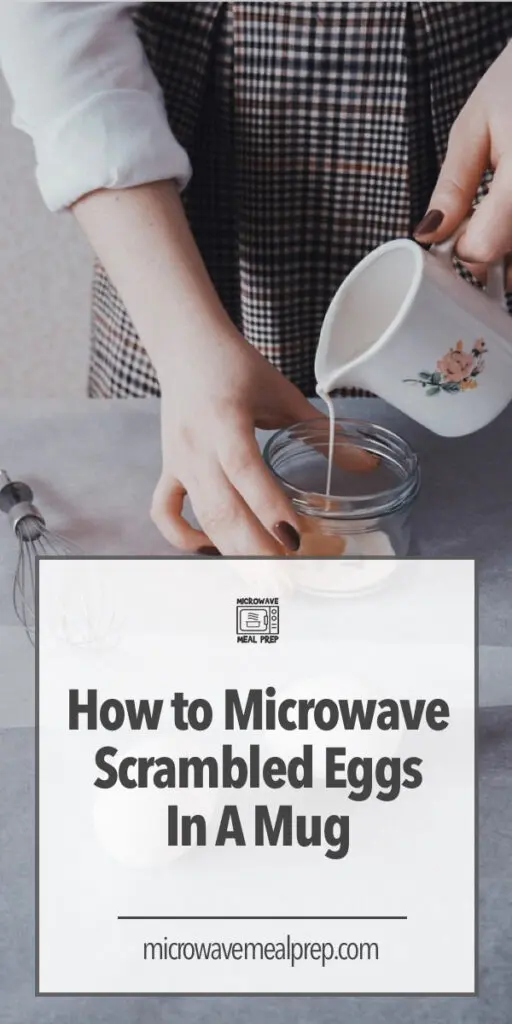 Is It Safe To Eat Microwaved Scrambled Eggs In a Mug?
Yes, it is completely safe to eat microwaved scrambled eggs. Interestingly, they require less oil and taste even better than the stovetop eggs because they are perfectly moist and less prone to overcooking.
Additionally, the eggs retain more nutrients when not overcooked. So, having more control in the microwave makes for a healthier preparation.
However, there are some things you need to keep in mind while microwaving your eggs in order to have a safe cooking experience.
As a general rule of thumb, always use microwave-safe dishes or containers for cooking and reheating your eggs. These include ceramic and glass.
Avoid using plastic whenever possible, and don't use metal containers, including aluminum foil as well.
This is the reason we recommend using a ceramic mug!
How Long Do You Microwave Scrambled Eggs In A Mug?
It takes less than 1 minute to microwave scrambled eggs in a mug. Adjust the time based on the microwave wattage, how many eggs you are cooking and the doneness of the scrambled eggs.
Begin with cracking a single egg for your scramble, which will only take a few seconds to cook well. However, to prevent it from overcooking we recommended using 10 or 15 second increments to keep a watchful eye.
You can gradually increment the time until you see the scrambled eggs are cooked fully. It can take about 1 minute in total.
Depending upon the type and voltage of your microwave and the freshness of an egg, you might take more or less time. Another thing you should keep in mind is that eggs will continue to carryover cook with their own heat and the heat from the mug after you remove them from the microwave.
It's best to take out the eggs a bit early so that they don't dry out and become overcooked.
Can You Reheat Scrambled Eggs In A Mug In The Microwave?
Reheating the scrambled eggs in a mug in the microwave is the quickest option to refresh your breakfast. Reheated eggs will warm nicely and the risk of overcooking is minimal.
Here is how you can reheat your scrambled eggs in a mug in the microwave:
Pour the scrambled eggs into a microwave safe coffee mug.
Cover it loosely with a lid such as a saucer, paper towel or plastic wrap.
Put it in the microwave for about 15-20 seconds till the excess liquid in the bottom releases steam that heats up the egg with moisture.
Fluff the eggs using a fork, and nuke for another 10-15 seconds if necessary..
Voila! Enjoy the reheated scrambled eggs while they are still hot.
Tips To Microwave Scrambled Eggs In A Mug
Preparing scrambled eggs in a mug is the quickest breakfast hack when you are not in the mood to cook at all. The best thing is you can customize the scramble in a number of delicious ways. So, do try this recipe, you'll not be disappointed!
Here are helpful tips to microwave scrambled eggs in a mug:
Beat the eggs using a fork to make sure they are whipped enough and to cook evenly.
To prevent overcooking, start with the minimum time, say 10-15 seconds, and then increase the time gradually.
Fluff the eggs with a fork in between each microwaving interval.
Follow the standard rule of cooking in the microwave, always use microwave-safe containers and when possible avoid plastics as they can make the food toxic.
A splash or milk or water will really help to make the scrambled eggs fluffy.
You can prepare different variations of the scrambled eggs in a mug. By adding some cheddar cheese, you can enjoy cheesy scrambled eggs and by adding some fresh colorful bell peppers, you will have a classic scrambled egg preparation.
Take out the eggs when they're still a bit soft and have some liquid because they'll continue cooking after you take them out of the microwave. So, if you like your eggs moist, be very careful and take the eggs out while they are a bit soft and liquidly.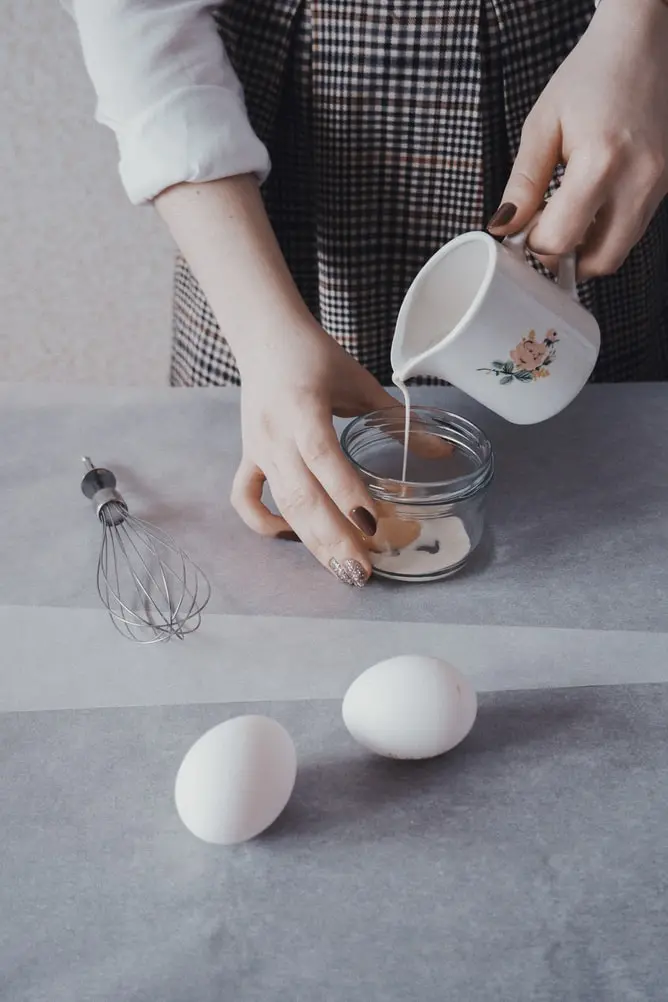 Yield:

1 scrambled egg
Microwave Scrambled Eggs In A Mug
Scrambled eggs microwaved in a mug are ready to devour in less than 2 minutes. If you're skeptical about their taste, then know that they have the same rich and classic taste of scrambled eggs cooked on a stovetop.
The best part is, you don't need a lot of ingredients, don't have to do a lot of cleanup and don't need to have a lot of time! Here is the best way to microwave scrambled eggs in a mug.
Ingredients
1 Egg
½ teaspoon Oil or Butter
1 tablespoon Milk or Water
Salt and Pepper to taste optional *
Toppings (cheese, veggies, bacon) optional *
Instructions
Use a large size, microwave safe ceramic coffee mug.
Grease the inside of the mug with oil or butter.
Crack the eggs into the cup, add the milk and seasoning; whip the scrambled eggs really well.
Microwave the mug for 15 second durations. Stir the edges inward using a fork after each interval.
Continue microwaving for 10-15 seconds if eggs are not cooked. Adjust the time after looking at the scrambled eggs.
Take out the eggs when you still see some liquid on the top, the eggs will carryover cook with heat trapped inside the mug.
Finish the scrambled eggs with your favorite toppings and enjoy while they're still hot.
Nutrition Information:
Yield:
1
Serving Size:
1
Amount Per Serving:
Calories:

92
Total Fat:

7g
Saturated Fat:

2g
Trans Fat:

0g
Unsaturated Fat:

5g
Cholesterol:

186mg
Sodium:

72mg
Carbohydrates:

0g
Fiber:

0g
Sugar:

0g
Protein:

6g